Scholarships for Private Independent Schools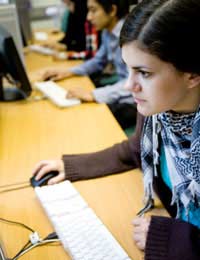 A scholarship is a means of financial assistance provided by another body or institution so that your child can pursue a line of education that may not be available to them under normal circumstances.
At the present time in the United Kingdom more than a fifth of all pupils at independent schools get some form of financial assistance with fees. Scholarships are generally awarded to pupils for academic, musical or artistic merit and normally do not take financial need into account.
A scholarship can be awarded to any pupil based entirely on their performance within a particular subject or field of education and irrespective of background, class or financial stability.
How Scholarships Are Awarded
Scholarships are awarded normally, as we have already touched on, to those pupils who show exceptional talent and/or intelligence in a particular area. This may be music or the arts or literature or indeed sport and, as such, there needs to be a financial input to enable these pupils to pursue further qualifications in these fields at private independent school level.
In order to do this, private independent schools will hold examinations based upon a shortlist of pupils gleaned from the mainstream school system and as a result a shorter list of prospective and talented pupils may be drawn up.
A further examination and interview may be held to further quantify the pupil's interest and indeed willingness to pursue the obtaining of a scholarship.
If the scholarship is awarded it amounts to a maximum of 50% of the school fees that may be required during the course of a pupil's education at private independent school. This will take into account board and lodgings should the school be outside the catchment area to such a degree that the pupil might need to reside there during term time.
There will also be such things as uniforms, textbooks, any sporting equipment, musical instruments or indeed any other item that falls outside the normal remit of an educational standard.
However, as a scholarship amounts to only 50% of the fees at a private independent school it may be necessary to seek a bursary if the pupil's parents are not in a position financially to cover the shortfall between the amount granted in a scholarship and the overall amount of the fees incurred.
A bursary is an amount of money granted to make up the shortfall and is only granted after a series of means tests are carried out to ensure that a pupil's parents are not in a position to make up the difference.
Although your child may be of a high intellect and of a high educational standard there is still no guarantee that a scholarship or bursary will be awarded. These are means tested and also granted on a limited number of places per year.
It is worthwhile mentioning that having looked at a varied number of private independent schools there is a generally accepted criterion across the board.
In saying this priority is given to the pupils of parents who are members of the clergy, members of the Armed Forces (both serving and non serving), teachers, and also to the children of former school pupils who have applied for scholarships at their chosen school.
That said do not let it put you off attempting to help your child gain a scholarship they have as much chance as anyone given the right exam results and the right advice.
As always with trying to place your child in any school it is important to understand the criteria laid down and also given the chance, inspect the school and speak with teachers and pupils alike for a more balanced view of how things operate.
As with all schools private or otherwise there will be a parent teacher association and as always this a good place to start if you are looking for an unbiased and realistic appraisal of your child's chances. Read more about the school PTA on this site.
You might also like...
Hi, My kids grade 10 and 9 , studying in uae Arabic curriculum they can manage them selves in English language . I am thinking to send them to continue study in UK . can some one help me and advise if this can work and how BR
mah123
- 12-May-16 @ 6:52 PM
I am a single unemployed parent of a 6 year old who is doing grade 1 in a local government school. I would love to get financial help/support for my son inorder for him to get the best education in best school. He seem talented, loves to sing, dance. There is more potential in him given the chance to develop his talents. Hoping to hear from, thanl you.
Mhamhase
- 29-Apr-16 @ 8:07 PM
I am a boy aged 15 year old .I need a scholarship to learn at a high school in UK.I am doing good at school so i am looking forward to learn at UK
mbo
- 27-Apr-16 @ 6:28 PM
Hi I am single mom raising 2 daughters after their father died 3 years ago. My little 5year is in Grade R and her sister is 10 in grade 6. My 10year is a gifted academically and in Athletics, plays netball and is a prefect this year. I am trying my best with my children but with my income it is difficult to put them into a private school where their talents can be nurtured and they can live to their full potential even when I an not around.
Noma
- 27-Apr-16 @ 9:49 AM
I am seeking financial scholarship for my son. Being a single handed parent l am seeking any kind of support that is out there.he has been offered a place now getting unwell as not sure if l can cope
te
- 29-Mar-16 @ 12:01 AM
Hello,Am by the names of MukiibiEmma a Ugandan high school student I am a seeking for financial assistance in my education am good at sports(basketball,athletics and swimming) I can also do music,dance and drama.thank you
Emma
- 27-Mar-16 @ 5:48 PM
Hi...im samke from durban at enandah last year i was doing grade 11 and i passed but things didn't go well i did'nt do my matric now i need your help i want to study
Mambaliza
- 17-Mar-16 @ 2:03 PM
hi,am 16 years old..am in secondary school. Iam gifted with a nice voice i can sing very well..but my parents have no money to let me continue with. my studies please help me i need your help so much...love,lilly
lilly
- 17-Mar-16 @ 10:54 AM
I'm lilly,am a student in form three,i'm not attending school because my parents can't take me to school due to low income they have got.please help me I beg you with all my heart.love,lilly
lilly
- 17-Mar-16 @ 10:49 AM
I am a single parent and would like to get assistance with my three children. My nine year old was in a private school doing very well,she had to stop going to the school because I am unable to pay the school fees and that really broke my heart.My six year old twins are to start grade one and I would like them to get a good education to ensure a brighter future.We went through a lot when my husbandpassed on and now I would like to empower myself by furthering my studies .I am unable to do all these things with the salary that I am getting. IfI know my kid's education is taken care of then I can concentrate on empowering myself so that I can be able to give them the best.They have so much potential, they are such intelligent children. Please help me get assistance. Kind Regards, Andy
Andy
- 9-Mar-16 @ 1:08 AM
Hi my son is 12 yrs old currently in yr 7 of high school, we are a low income family and my son's dream is to become a forensic scientist. He is extremely gifted in maths and science, already capable of gcse level in both and I am looking into finding a better school for him to fully develop his abilities, he also has Aspergers Syndrome, which given his interests has been a huge advantage as his focus is second to none. Any advice would be appreciated.Thank you
Helen
- 29-Feb-16 @ 1:59 AM
Hi my name is Lindy I need someone who can assist me. To my 5years old girl she's starting grade1 next year I don't have a money to take her to schoolI'm a single parent I'm not working thanks God Bless u!
Lindy
- 23-Feb-16 @ 10:36 AM
I m hammad from pakistan,i am 15 years old,i need a scholarship for high school in uk
hammad catto
- 20-Feb-16 @ 3:58 AM
Good morning? My name is hammad i going to any country for scholarships. and my age is 14.15? how can i do?
hammad catto
- 20-Feb-16 @ 3:52 AM
Hello my name is Kgauhelo lebetsa From South Africa ,Free state provience ,Theunissen andI'm a 17 old boy who want to study grade 11in a private school but i live with unemployed single parent who cant afford the fees. Please help me. I promise to work hard and your money wont go to waste.. My parent's numbers are:0834966790 ; 078776351;0737793090. I will appriciate your help
Mokete
- 5-Feb-16 @ 4:35 PM
Hi, my name is Lasmi and I'm looking for a full senior high school scholarship for my daughter, she is 15 and currently studying in a vocational high school in Jakarta (year 10), she is very good in languages, she's fluent in English and Indonesian, but she's currently learning Russian (and a little German). She also could play a guitar and she's joining her school's basketball team. Since my husband is not working, I'm unable to pay for her school and I'm only able to pay my son's. And if you can help me and my daughter, please let me know. Thank you.
Lasmi
- 24-Jan-16 @ 3:55 PM
Hi my son is presently in a private school and i am currently unemployed,please assist,he is a very intelligent young boy.
Mankhuneng
- 23-Jan-16 @ 7:14 PM
Hi....am16,, a high school student in Kenya .i am a good performer in school ...i do acrobatics..i play volleyball,football,badminton .....in grade 9,,but i had to repeat my school year due to fees problem ..but i still believe that i will complete my high school .i have been applying for scholarships since my 8th grade..but with no luck.please help me obtain a scholarship... regards ..trina
Katrina
- 17-Jan-16 @ 9:24 AM
Hello. My son is 11 years old and currently goes to secondary school. He has dyslexia and struggles in a large class at his school. However, despite this I have never known a child as hard working, passionate and ambitious as him. He gets angry in class because others don't want to listen in class as much as him and he gets very upset when the other children distract him. He goes to after school clubs such as homework, maths and English out of his own choice because he tries so hard to be smart and wants to go to university so much. The reason I feel he would benefit at a private school is because he is so intelligent and very creative and so passionate about school and learning. Also because the classes are smaller he would receive more help than he currently receives. He is exceptionally well behaved and takes everything so serious. His dream is to become either a fashion designer or a mathematician and he is very good at maths. I know sponsorships is meant for children with a special skill such as music or drama etc, but my child is the most hard working, ambitious child I have ever known and I want the best education for him and the chance for him to become successful in the future. His dyslexia gets in the way a bit but his determination is so strong he says he WILL get top grades and do well at school. I really hope someone out there can help us make his dreams come true.
Pamela
- 16-Jan-16 @ 3:55 PM
Hello my name is mwavita Shakira my daughter is teera Roberta she is in grade 9 goin to grade10 she is 14 years old the reason why I am applying for this is because I am a single mother and I am unable to provide a good education her her.Her father passed on .We live in kampala uganda please email me
shak
- 15-Jan-16 @ 12:49 PM
Can you please help my son he is very talented in education and music he is 9, we live in Westminster( London ). Part time or full time.
Lame
- 15-Jan-16 @ 6:23 AM
hi my name is otanganedzwa tambani um 16 years old and this year um doing grade 11.um good at writting speech ,poem,story .um looking for a scholarship to study in a private school.its been long since i wanted to study to a privated unfortunetly it could not heppen my parent cannot afford it .please help to find a scholarship .....
ota
- 12-Jan-16 @ 3:56 PM
Hi, my name is Comfort Taiwo. My daughter is in grade 9 going to 10 in 2016 and I want her to study in a private school but I can't afford it. She is very good in mathematics. Please can you help me out on how to get a scholarship for her. Kind regards Comfort.
comfort
- 6-Jan-16 @ 8:50 AM
My daughter is 9 years old very brilliant, and i want her to go to private school but i can't avoid it pls how can you render your help for me .thanks looking foward to hear from you .
kay
- 30-Dec-15 @ 9:45 AM
My small daughter Sonia Hazzan is 11years old.She is very good . We want to apply my daughter to private school.Can you pleasehelp us.Many thanks.
Odongerel
- 29-Dec-15 @ 12:55 AM
Hi, I'm a fifteen-year-old student and I'm currently studying high school in a developing country. I'm wondering if there are full highschool scholarships available for me to apply? I'd like to apply for a high school scholarship that allows me to continue high school there. I would consider myself a bright student and I have acquired multiple certificates and trophies in different fields of skill without letting my grades down. I've been looking for scholarships since I graduated secondary school. Please guide me if there are any options avaible for me. Thank you for your time.
Michelle
- 4-Dec-15 @ 10:17 AM
hi am studying in class 9 in English medium school but i dont want to study in ICSE school because we dont have any government facility further i want to continue my class10 in CBSE bord i have passed with 1 st in class in with more than 70 percent in class 9 plz can you help me because i want to do aeronautical engineering after 12.
adhi
- 10-Nov-15 @ 10:35 AM
Harjin - Your Question:
My name is Harjin Amutheesan. My Son Anish (7) is currently studying at a public School in Fulham. He is a very bright student but I believe he is not well challenged at the school he is currently studying in. I am not able to afford to pay so much money to send my child Anish to a private school. I would like to apply for a scholarship for my son at a private school. Please kindly send me some more information what need to be done to apply for a scholarship for my child Anish.
---
Our Response:
You would have to really pick the school of your choice and request directly about entrance exams and scholarships available for your son. I'm afraid, we cannot recommend schools directly.
GetTheRightSchool
- 4-Nov-15 @ 12:03 PM
My name is Harjin Amutheesan. My Son Anish (7) is currently studying at a public School in Fulham. He is a very bright student but I believe he is not well challenged at the school he is currently studying in. I am not able to afford to pay so much money to send my child Anish to a private school... I would like to apply for a scholarship for my son at a private school. Please kindly send me some more information what need to be done to apply for a scholarship for my child Anish.
Harjin
- 3-Nov-15 @ 12:05 PM
Hello, I've been looking for a scholarship for weeks now. I'm in grade nine and my parentsare not financially fit. Pls email me
malumz
- 31-Oct-15 @ 4:28 PM