Scholarships for Private Independent Schools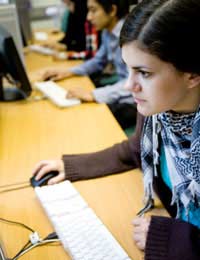 A scholarship is a means of financial assistance provided by another body or institution so that your child can pursue a line of education that may not be available to them under normal circumstances.
At the present time in the United Kingdom more than a fifth of all pupils at independent schools get some form of financial assistance with fees. Scholarships are generally awarded to pupils for academic, musical or artistic merit and normally do not take financial need into account.
A scholarship can be awarded to any pupil based entirely on their performance within a particular subject or field of education and irrespective of background, class or financial stability.
How Scholarships Are Awarded
Scholarships are awarded normally, as we have already touched on, to those pupils who show exceptional talent and/or intelligence in a particular area. This may be music or the arts or literature or indeed sport and, as such, there needs to be a financial input to enable these pupils to pursue further qualifications in these fields at private independent school level.
In order to do this, private independent schools will hold examinations based upon a shortlist of pupils gleaned from the mainstream school system and as a result a shorter list of prospective and talented pupils may be drawn up.
A further examination and interview may be held to further quantify the pupil's interest and indeed willingness to pursue the obtaining of a scholarship.
If the scholarship is awarded it amounts to a maximum of 50% of the school fees that may be required during the course of a pupil's education at private independent school. This will take into account board and lodgings should the school be outside the catchment area to such a degree that the pupil might need to reside there during term time.
There will also be such things as uniforms, textbooks, any sporting equipment, musical instruments or indeed any other item that falls outside the normal remit of an educational standard.
However, as a scholarship amounts to only 50% of the fees at a private independent school it may be necessary to seek a bursary if the pupil's parents are not in a position financially to cover the shortfall between the amount granted in a scholarship and the overall amount of the fees incurred.
A bursary is an amount of money granted to make up the shortfall and is only granted after a series of means tests are carried out to ensure that a pupil's parents are not in a position to make up the difference.
Although your child may be of a high intellect and of a high educational standard there is still no guarantee that a scholarship or bursary will be awarded. These are means tested and also granted on a limited number of places per year.
It is worthwhile mentioning that having looked at a varied number of private independent schools there is a generally accepted criterion across the board.
In saying this priority is given to the pupils of parents who are members of the clergy, members of the Armed Forces (both serving and non serving), teachers, and also to the children of former school pupils who have applied for scholarships at their chosen school.
That said do not let it put you off attempting to help your child gain a scholarship they have as much chance as anyone given the right exam results and the right advice.
As always with trying to place your child in any school it is important to understand the criteria laid down and also given the chance, inspect the school and speak with teachers and pupils alike for a more balanced view of how things operate.
As with all schools private or otherwise there will be a parent teacher association and as always this a good place to start if you are looking for an unbiased and realistic appraisal of your child's chances. Read more about the school PTA on this site.
Get The Right School is sponsored by Purely Energy, who have funded a lot of our content. If you are looking for a low cost business energy supplier, take a look at their website.
GET THE RIGHT SCHOOL IS FOR SALE.
This website is for sale [more info].
You might also like...
To whom it may concern l have a 10 year old who is intelligent and smart and good at maths. I would like to know how to apply for scholarship and also be glad if more information can be sent to my email. Many thanks
Olu
- 15-Sep-21 @ 6:28 AM
I want to relocate Cambridge UK and need some assistance with a scholarship. I have one kid 10 years. She is very intelligent and active just need the opportunity as I know she is the child that if she get the right consistency she will come out best. Any help would be greatly appreciated.
Hi I have a 10 year old son doing grade 4 he is very smart he got an academic badge he gets gold certificate for discipline he is very focus I would like for him to go to a private school and get the best education but I cannot afford it as I am divorced and responsible for him and his brother .He loves maths and geography and science he wants to be a Cardiologist. Can you assist me with a scholarship for him
Meza
- 7-Aug-21 @ 3:38 AM
Hi I have a daughter who is 9 years old. she is talent in maths and music. I would like to seek more advice to get scholarships in private school. I can't afford full payment for her. Thx
Melody
- 6-Aug-21 @ 10:51 PM
To whom it may concern I have a nine year son who is very brilliant, his key interest is in Mathematics, Science and English. I am looking for a scholarship for him to start his secondary educationin a private school which I can't afford full payments . He want to be a Neurosurgeon, want to go to Oxford or Cambridge University for his higher education. Kind regards
Adelaide
- 19-Jul-21 @ 2:39 PM
My 14 year old daughter has a talent for art, an original style. Recognised by her teachers from her first reception class. Can you advise me if there is any specialised guidance to further her skill we live in buckinghamshire. Please also advise how to find out if she would be eligible for a scholarship as i am unable afford private school education. Kind regards Tracy
Tracy
- 16-Jun-21 @ 8:39 AM
Hi, i have a 9 year old son who is really good at Art. Can he get into private or grammar secondary schools through art scholarship in Hertfordshire and Buckinghamshire county?
Punam Sharma
- 5-Jun-21 @ 9:37 AM
Hi, I have a 13 year old daughter who is academically good in all her subject an a star studentand a good literature student who had all 8( A)s and a B in her 9 Subjects( she will like to be an anaesthesia and sports paramedic and also good in athletics. She goes for training Mondays and Wednesdays with her running clubs she is currently in a private co-educational school and would like to give her a platform to shinewith a scholarship with the fees. Janet
Najane
- 3-Apr-21 @ 1:06 AM
Hi, I havea 13 years old son who is talented in athletics, Maths and football. I would like to know how to apply for the above mentioned scholarship. He has won many awards in sports especially athletics. I would be glad if more information can be sent to my email. Thanks
Prince
- 31-Mar-21 @ 11:40 PM
Hi, I have 9 year old daughter who is very talented in playing violin.I am kindly requesting you to support her with the scholarship. I would be glad if you sent me any information in my e mail. Thank you
Clover
- 1-Mar-21 @ 6:41 PM
Hi, I have a 10 yearold who is very intelligent and super smart. I will be very glad if he can be given a scholarship to help bring out the best in him. I also have a super talented 5 years old girl. She is very good in acting and she can play a lead role very well. I will be so glad if she can be given opportunity for her to bring the best in herout to the world.
Bolly
- 25-Feb-21 @ 1:14 AM
I wish to win this scholarship because I have no one can help me with the school fees it's gonna be a dream come true for me to get it .
Mercy
- 20-Feb-21 @ 12:02 AM
To whom it may concern, My son who is 14years old is quite extraordinary and intelligent. He is super smart and also has a great sports ethic and height for basketball. He is a real asset to anyone and all he needs a chance and a platform to shine. I am a single parent and also have an amazingly talented 9 year daughter who wishes to be an actress one day. She is something else one is the best personalities I've met in my life. I have good kids who deserve only the best.
Kellz
- 17-Feb-21 @ 7:21 PM
Hi, I live in Leicester with my young family, Please I would like an advice on how to get scholarship ( bursary and grant) for my son, He is 7 years old and also a smart kid who have interest on science
Rossy
- 19-Jan-21 @ 8:09 PM
Hi My name is Jacqueline n I'm Tanzania.My nephew is 12 years old and he is the smartest and very intelligent. I'm looking scholarship for him because he deserve good education and i cant afford that. Currently i'm taking care of his mom (my sister) very sick she has pelvic cancer and HIV/AIDS positive. Hus father rejected him. But he is a gifted kid i believe if he gets good education will do wonders in future. Thank you in advance.
Jackie
- 14-Dec-20 @ 3:41 AM
Hi there, My son is in year 5 . He desires to study in a private school and he's doing very well in all subjects. He loves playing chess, piano, football and obviously video games. He's behaviour is always outstanding. I would like to know when should we apply for scholarship ? We like him to start either from Year 6 or secondary. Please let me know.
Pita
- 9-Dec-20 @ 10:26 PM
I want to relocate from the caribbeanto the UK and would need some assistance with a scholarship. I have 1 son who is 10 years old. He is very intelligent and active and just needs the opportunity.
Nikki
- 22-Nov-20 @ 2:10 PM
My son is in year 6 and it has always been my dream for him to attend a private secondary school. He's smart and clever. He aspires to be a medical doctor or a pilot later in the future. He has so much zeal for education and I will be glad if he can get scholarship to support his dreams and have a good educational background. Thank you
Yetty
- 11-Nov-20 @ 9:51 AM
Hi, I would like to know how I can apply for a scholarship for my son he's in year 5 and is not the smartest but always tries. I think he might benefit and learn more when put in a smaller class. Thank you
My son is applying for secondary's schools I am interested in scholarships for a private school how do I go about this? Many thanks Rinku
Rinku Alagh
- 29-Oct-20 @ 6:54 AM
I will like to apply for a scholarship for my daughter to secondary school, as she is not the smartest in her class but I want her to do more. As I know she is child that if she get the right consistency she will come out best. It will be a great opportunity for her in life.
Ola
- 25-Oct-20 @ 5:30 PM
Hi my son is in year 6 he is not the smartest of kids he tries his best hence the reason why I would like him to get private school as there will be less number of children :- to teacher ratio. Thank you Mamo
Mamo
- 19-Oct-20 @ 10:50 PM
Hi my son is in year 6 he is not the smartest of kids he tries his best hence the reason why I would like him to get private school as there will be less number of children :- to teacher ratio. Thank you Munya
Mamo
- 19-Oct-20 @ 10:46 PM
I am in glasgow and need advice on how to get bursies or Grant's for private secondary school for my son. Cheers
Hi My name is Mercy n I'm Sudanese I live in Cairo and I'm looking for scholarship to help me with my school fees and visa bcuz I have no one to help me with my the fees only my mom and I have applied for the international community school in London and I have been accepted and the problem is the fees for the Visa and school and I hope so to help me.this is my case and thank you...
Mercy
- 3-Oct-20 @ 11:27 AM
I can't believe I got a 60% scholarship into one of the best schools ever thank you for helping me understand I still can't believe it !
Lil
- 26-Sep-20 @ 9:39 AM
Hello, I'm a student from Nigeria. I am currently in year 11 of my studies. I would like to study in the UK but the fees are just too expensive. Please I'm currently looking for scholarships to reduce the burden on my parents. Thank you.
Dayo
- 23-Sep-20 @ 9:22 AM
Hi i would like to know how I can get a scholarship and busery for art for my child who has just started year 6
Rose
- 14-Sep-20 @ 2:19 AM
Hi, My name is Inioluwa Adedapo. I am a Nigerian. I am a straight A student currently in year 9. I am aspiring to be a medical Doctor but I can see how my parents have been struggling to pay my fees ensuring that I attend good schooland in order not to abort this dream of mine, I am seeking for a scholarship to help reduce this financial burden on my parents. Please any advice on how to get a scholarship will be of great help. Thanks
Ini
- 26-Aug-20 @ 5:36 PM
How can I apply for scholarship for my son who will be going to year six in September 2020.
Jo
- 24-Aug-20 @ 12:17 AM