Scholarships for Private Independent Schools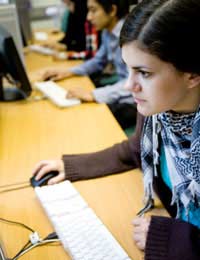 A scholarship is a means of financial assistance provided by another body or institution so that your child can pursue a line of education that may not be available to them under normal circumstances.
At the present time in the United Kingdom more than a fifth of all pupils at independent schools get some form of financial assistance with fees. Scholarships are generally awarded to pupils for academic, musical or artistic merit and normally do not take financial need into account.
A scholarship can be awarded to any pupil based entirely on their performance within a particular subject or field of education and irrespective of background, class or financial stability.
How Scholarships Are Awarded
Scholarships are awarded normally, as we have already touched on, to those pupils who show exceptional talent and/or intelligence in a particular area. This may be music or the arts or literature or indeed sport and, as such, there needs to be a financial input to enable these pupils to pursue further qualifications in these fields at private independent school level.
In order to do this, private independent schools will hold examinations based upon a shortlist of pupils gleaned from the mainstream school system and as a result a shorter list of prospective and talented pupils may be drawn up.
A further examination and interview may be held to further quantify the pupil's interest and indeed willingness to pursue the obtaining of a scholarship.
If the scholarship is awarded it amounts to a maximum of 50% of the school fees that may be required during the course of a pupil's education at private independent school. This will take into account board and lodgings should the school be outside the catchment area to such a degree that the pupil might need to reside there during term time.
There will also be such things as uniforms, textbooks, any sporting equipment, musical instruments or indeed any other item that falls outside the normal remit of an educational standard.
However, as a scholarship amounts to only 50% of the fees at a private independent school it may be necessary to seek a bursary if the pupil's parents are not in a position financially to cover the shortfall between the amount granted in a scholarship and the overall amount of the fees incurred.
A bursary is an amount of money granted to make up the shortfall and is only granted after a series of means tests are carried out to ensure that a pupil's parents are not in a position to make up the difference.
Although your child may be of a high intellect and of a high educational standard there is still no guarantee that a scholarship or bursary will be awarded. These are means tested and also granted on a limited number of places per year.
It is worthwhile mentioning that having looked at a varied number of private independent schools there is a generally accepted criterion across the board.
In saying this priority is given to the pupils of parents who are members of the clergy, members of the Armed Forces (both serving and non serving), teachers, and also to the children of former school pupils who have applied for scholarships at their chosen school.
That said do not let it put you off attempting to help your child gain a scholarship they have as much chance as anyone given the right exam results and the right advice.
As always with trying to place your child in any school it is important to understand the criteria laid down and also given the chance, inspect the school and speak with teachers and pupils alike for a more balanced view of how things operate.
As with all schools private or otherwise there will be a parent teacher association and as always this a good place to start if you are looking for an unbiased and realistic appraisal of your child's chances. Read more about the school PTA on this site.
You might also like...
loopy - Your Question:
My son has got into the Hammond school in Chester which specialises in dance and drama. He has been lucky enough to be offered a scholarship but sadly we still can't afford the fees. Can you advise me on any further help we can get? He is going into year 7.
---
Our Response:
You would have to apply to the school directly in order to see whether there are any scholarships or burseries open to him.
GetTheRightSchool
- 27-Aug-15 @ 11:29 AM
my son has got into the Hammond school in Chester which specialises in dance and drama. He has been lucky enough to be offered a scholarship but sadly we still can't afford the fees. Can you advise me on any further help we can get? He is going into year 7.
loopy
- 26-Aug-15 @ 12:48 PM
@Daphne - it's nice that all your children are bright and I'm sure they will do well in any school here. Each school has it's own scholarship criteria, so once you have your visas you would have to apply directly to your school of choice. Good luck!
MsP
- 26-Aug-15 @ 10:48 AM
Hi!I have 3 kids . They are 11,11 and 9.We live in Mumbai, India. My kids are extremely talented and academically bright.My 11 yr old always scores above 90% in all subjects.We are looking to moving to UK as their father is a portuguese national and working there and we wish to join him. I am a full timehomemaker with no income. Is there any way my kids can join a private school in UK where they can get sponsored.Any help will be appreciated.
Daphne
- 25-Aug-15 @ 10:48 AM
I am ayounger talented in football boy with 16years and am looking forward in studies.Am applying for a scholarship
Zimulano
- 6-Aug-15 @ 1:19 PM
Hi, I'm a 21 year old young man who's employed, my parents recently passed away on 28 June 2014 and 22 July 2014. Leaving me to look after my 2 younger brothers aged 9 and 18.. both of whom are in school. they are both very smart, and I'm looking to secure a future for the youngest one, who I believe has the potential to be very successful, even more than I ever could. I live in Malawi in Africa. If there are any ways to help me help him, please let me know. yours truly, Manuel
Manie
- 5-Aug-15 @ 7:14 AM
My daughter is going into year 10 in September, attending an independent grammar school in West Midlands. She has been always top in the class since year 7 averaging +92% in all her subjects. The school has been giving me 30% discount every year and I thought would cope, with the NHS nurse salary, this end up putting me in debt with the taxman as taxes are behind. I wish not to take my daughter off that school as she is doing very well. Is there anyone who knows ways of getting some assistance in paying the fees so I can continue keeping my daughter in the same school. Thank you in advance
Taps
- 29-Jul-15 @ 10:52 AM
Hello, my son is 11 years old and just receivedhis SATS result securing level 6 in all subjects. He is very good at science and would like to be a scientist. Is there any possiblity of financial help in the form of scholarship for him so he could pursue his interest? Anthony (London)
CHUCK
- 27-Jul-15 @ 7:10 PM
hi there,i daughter is 10yrs,she's a bright child who always achieved more than 80 percent all subject an 95 percent on maths from grade1,she's also a writer,now she is in grade 4,i am a single parent and really need help to perssue my child's carrier.
maki
- 17-Jul-15 @ 12:41 PM
@Heidi - I'm afraid as this is a UK-based site, we can only advise on UK-based schooling issues. I hope someone else out there nearer to home may be able to help answer your question. Good luck.
GetTheRightSchool
- 9-Jul-15 @ 11:50 AM
I am a single mother of 3 children aged almost 15,12 and 9.Recently my son who will ve going into grade 7,was selected to attend the Drakensberg boys choir school.He does well in school and this is his dream to be able to become a Drakie but unfortunately he will not be able to go unless I get bursaries or sposorship for him.Is there anyone that could give me some ideas?
Heidi
- 6-Jul-15 @ 12:57 PM
I RECOMMEND TO STUDY THERE THROUGH INTERENT
ACHOLA
- 24-Jun-15 @ 12:29 PM
Am happythat this is happening am from Uganda lwengo district kasswa villageI have my young sister we are in a family of thirteen our daddy left us and went with a new wife in town where he now resides. But my young sister is so good in music but there is no money to keep her in school is it possible for her to get help to make her future better.
Surrender
- 11-Jun-15 @ 7:18 PM
Good dayI have my 12 year old daughter who is an academical student doing grade 7 at Sharolea Primary school. She gets 80% and above in all her subjects. I would be grateful if my child gets a sponsor for her secondary education. It will be a dream come true to see her get into a private school she has been accepted into some private school but cannot afford the fees.
busi
- 9-Jun-15 @ 11:55 AM
@Jen - according to the Good Schools Guide,if your child was reading at three, knew his tables at four and devoured science books whole at aged seven, then you may be able to secure a bursery. However, these burseries don't come along often. You can see what criteria is needed via the Good Schools Guide
here
. I hope this helps.
GetTheRightSchool
- 1-Jun-15 @ 12:05 PM
Hello Can this be done mid term ? My daughter starts school this september, she is incredibly bright, and I am really worried that she will be held back in a class of 30. She is only 4, do they test them at this age ? And if so how ? My husband completed 11 years service in the forces as an officer, does this mean because he took redundancy that we now have less of a chance because he is not serving ? Thanks in advance
Jen
- 28-May-15 @ 6:28 AM
Hi I'm. From stellenbocsh and I'm looking for a scholarship that can support me in grade 10 and I love druma, singing and dance. Please. Help. Me I'm. Looking. For the bright future
Mabusi
- 18-May-15 @ 9:06 PM
is there any scholarship for secondary schools,I want it for my daughter.
Dupson
- 17-May-15 @ 10:11 AM
is there any scholarship for secondary schools? I want it for my daughter
Dupson
- 17-May-15 @ 10:08 AM
@face - I'm afraid in order to get a bursery, your parents would have to go through the proper immigration procedures in order to come to the UK. Or if you are old enough you, would have to apply yourself for a student visa.
GetTheRightSchool
- 15-May-15 @ 1:36 PM
Hey I'm Ellie, I'm from Leeds in England. I'm currently in year 10 and I play a lot of sport, I play for Yorkshire and north England ladies u15 and have recently been asked to be part of the north England u18 sevens team for the "sainsburies school games". Also I'm in a talented and gifted academy where 24 girls in England train regularly and build blocks upto playing for England, this is the highest point I can get to at this age as the national side doesn't start until u20. On top of rugby I am a keen athlete competing in English school championships twice, football is another big part of my life playing recently with my county side. Thank you
Kildunne
- 14-May-15 @ 11:04 PM
Hello my name is ntando and I would like to know if you give scholarships to learners in south africa because I am really desperate. I live with my mom who has a degree in psychology but she is unemployed and my two brothers and my grand father. At home my mom always tells me to work hard at school and I do its just that I do not get any promising bursary I've won at a provincial and National leg of a competition and at school I get subject certificates. Please if you do have bursaries I plead with you give me one. I am a hard working student who believes in producing quality and consistent results and I don't shy away from challenges
face
- 13-May-15 @ 10:26 PM
Hi, My name is Kutlwano Msomi and I live in Pampierstad which is a small township in Northern Cape in South Africa.I am in grade 9 and am 14 years old,I am from a dysfunctional family.My mother has passed away and she was a single parent.I perform really well at school and am intelligent,creative,imaginative and also innovative. I will like to apply for a scholarship because I really need it
boogy
- 9-May-15 @ 8:58 PM
@Beka - are you a member of any drama, dance or theature school locally? As it would be worth you while having as much involvement as you can. While the school offers support to those who can't pay, it is usually to students who are progressing from one course to another or to students who are currently training on one of their full-time courses. Its website also says a special provision is usually made for an outstanding Associate School Student who has been selected for a place in the Theatre Arts School and who would be unable to undertake full-time training without financial help. I hope this helps.
GetTheRightSchool
- 20-Apr-15 @ 12:18 PM
Hi I'm Rebekah and I'm in year 9 and I want to get a scholarship for italIa conti because I want to be an actress
Beka
- 17-Apr-15 @ 4:10 PM
Hey my name is Rachel I'm in grade 9,I live in a small rural area in Pankop.As I'm here I'm looking forward for a schoolarship in order to surrport my studies so that I can get a chance to study at America.so anything that you can give me I will apreciate it to THANK YOU....
topi
- 8-Apr-15 @ 10:40 PM
@ashu - the application for scholarships is available to children of all nationalities that reside in the UK.
GetTheRightSchool
- 1-Apr-15 @ 12:00 PM
I am Fana Gudula from Dongwe I am currently doing grade 9 this year under the premises of Funda High School I will be turning 14 years old I'm a cool, calm, polite e.t.c boy, I'm asking for a scholarship because of I want to study at Get Ahead College, Queens High School or Hexagon, the reason why I'm asking for this scholarship because I know my parents can't afford my payments of the schools I want to be in because at my home only the source of income is social grant and the reason why I chose those schools because I see their High rates of academics and other things like sport is available, and I'm in to Debate, Poetry, Drama and public speaking, I'm studying hard and I'm passing with high marks and I'm studying towards the carrer of my choice because my biggest aim is to become the best well known doctor ever seen and I'll also make the positive impacts on the people on the ground and later specialise in nuerosurgery I will be the phsychological doctor, As a student I know what is expected of us individually. Because I understand that the are teacher equiped to guide us towards our carrers at those schools I've mentioned above. All my subjects I get 80% and above I'm brilliant I have 22 awards with 8 cups and 2 medals ! Because of being brilliant I really need this scholarship and I really want to study at a private school or the schools I've mentioned above. No matter this year or next year! With the hope I'll recieve this scholarship. At my home there are no hassles which regards to school tasks. For more information about me search me on #GOOGLE! @ Fana Gudula! You'll see me even carrying my Awards.
Fabb-Fanz
- 31-Mar-15 @ 10:17 AM
Is this scholarship available for pakistani students?
ashu
- 30-Mar-15 @ 1:08 PM
@sentha - I'm afraid as we are a UK-based site we cannot advise on boarding schools outside the UK.
GetTheRightSchool
- 10-Mar-15 @ 10:23 AM