Sixth Form Applications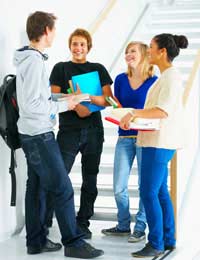 A teenager's sixth form (or Key Stage five) education is a very important time. These final two years of secondary schooling are optional, and are an opportunity for students aged 16 to 18 to make serious and important decisions about their future plans.
Normally sixth formers work on their preparation for qualifications such as A Level exams, although increasing numbers of schools and sixth form colleges are opting for alternative qualifications such as the International Baccalaureate and vocational subjects such as GNVQs. Teaching quality and facilities have a significant impact on the nature of qualifications that students receive, and these obviously will really play a part in students' future plans. So it's really important that parents and students think carefully about selecting a sixth form learning institution.
The Options
Most UK students either stay on at school to study for in a school's sixth form, which may be split up into 'Lower Sixth' and 'Upper Sixth' at some schools, or attend 'sixth form colleges' also known as 'further education colleges'.
How to Decide
The first question to consider is what your child wants to study. Obviously the factors include a look at the subjects that he or she is best at, and enjoys most, but also what subjects are required for the more long-term life plans. Wannabe doctors, for example, will have to do science A Levels.
Consider what kind of teaching structure works best - colleges, for example, will usually teach in larger scales than small sixth form classes at private schools. Look at whether your school or college options provide the academic qualifications that you need, be they AS or A levels, or BTECs, City and Guilds or OCR Nationals. Some colleges also offer the new Diploma qualification for 14 to 19 year olds, so look into what is available.
Further Education Colleges - More Information
At a further education college, the whole curriculum is geared around older students. Your classmates may include older adults as well as young people, and the college may specialise in a specific sector - such as art and design, or sport. There may be more social activities organised for people of your age, but equally some further education colleges might only focus on providing an education and ignore the extra curricular activities that are routinely provided as a matter of course at many sixth forms within secondary schools. As these colleges are usually larger scale, they may be further from your house. Consider whether a longer daily commute is worth the benefits.
When to Apply
Most colleges and sixth forms within schools will start to open their application process in the autumn term of Year 11. This is the time when you and your child should be visiting colleges and schools, going to open days, talking to former and current students and finding out more about the studying options available. Note, however, that normally it is not necessary to submit an application if you want to remain at your current school's own sixth form.
You might also like...
I decided to go to college after year11 but now I want to go to sixth form I'm wondering wether I would be aloud to apply for sixth form having being to college. I was wondering if I did go to sixth form if I would have to go into year 12 or if I would be able to go into year 13 without doing year 12. I've also thought about if I would be able to do year 12 and then do my exams without doing year 13?
Anonymous
- 8-Jul-20 @ 6:11 PM
I have just finished my application for the sixth form I want to apply but its late is there any opportunity to enter the sixth form
ritta
- 8-Jun-20 @ 5:24 PM
We are relocating back to UK from Spain in June 2020.My son has passed his Eso exams and needs to apply to a school to continue in sixth grade or a college.He wants to study architecture or design.Where do we apply and can he do his A level Spanish straight away?Thanks
My boy is in year 11. With the coronavirus his now finished school and not doing GCSE. We was going to a college to get advice on what he wants to do and how to apply etc. He is my eldest so I don't know how this works. I know I am very late. But any advice on what I can do for him to start 6 form in Sep please
Claire
- 17-Apr-20 @ 6:18 PM
Hi am currently year 10 and weighing up the sixth forms andI was wondering how many years ahead can I Apply to sixth form.
Elle
- 18-Mar-20 @ 10:16 PM
Hi, my son is in yr 10 when do I need to apply for 6th form
Lucy
- 27-Feb-20 @ 10:32 PM
Hi I was wondering if I can get into sixth form in 2020 September next year because I did my GCSE last yr and I should be in year 12 this year but I decided to take a gap year which would make me 17 if I go sixth form next year.
gigi
- 15-Feb-20 @ 6:48 PM
Hi my daughter is in year11.I would like her to apply for 6th form for science subjects. Can anyone help me with what is best time to apply for it.
My son didnt get into his schools sixth form at we now to late to apply for other sixth forms or college have we missed all the deadlines school was not very helpful with what we do now
Someone
- 23-Aug-19 @ 9:12 AM
Hi I need a help please. My son didn't get place in 6 form last year so he chose collage but he didn't complete that with collage now it like he wasted full year. I'm worried for his future. Thinking of if he still can apply for 6 form again
Mrs r parveen
- 29-Jun-19 @ 1:05 AM
My daughter has 3A*to 2A, 3B and 1C. Her school say that she may have to leave the 6th form because the did not get 9A to A*. Dose any one know of any good 6th form school. Privet or otherwise. Thanks
Den
- 9-Oct-18 @ 11:34 AM
My son is currently in Grade 10 at an independent private school in South Africa. They write the IEB exams. He will finish the grade at the end of the year.We are relocating back to the UK early next year and he would like to continue his education.Would he be eligible for to study for his A levels with his grade 10 results? Also being as the school year is totally different in the UK would he have to wait until September?By then he will be 17 years old. Any advice would be appreciated.
My niece has just arrived from Colombia,her 16th was August last year 2017,making her too old to join a school,my local Enfield council has said that she has to contact directly the sixth form schools and colleges but they all require for her to GCSEs or equivalent but she hasn't got any ,what do I do? Where can she go to get those required GCSEs if she is too old for school and too under qualified for the sixth form colleges??? Please help
Prey13
- 18-Jan-18 @ 6:31 AM
Am looking for a sixth Form that will have time for me to get the best education and also am dislexic I fine it hard to read and write so I need sixrh for the will he me so My best also I won't one that is close to me
Joyce
- 15-Aug-17 @ 11:37 PM
Hi I really need some help please. My partner is from Brazil and has been here for five years. She is on her ex husband's spouse visa. Her teenage son and daughter have joined. Its time for her son to go to sixth form. His English is fluent and he has good grades. His current independent school is trying to convince him he cannot go to a state school and needs to pay. Can anyone advise on this matter please. Thanks
Alex
- 8-Aug-17 @ 5:36 PM
Am a 2017 graduated from St.Thomas Technical high school and am wondering if i can get help on choosing a sixth form
Jess
- 11-Jul-17 @ 8:00 PM
This is sick. All questions and no replies.
Someone
- 6-May-17 @ 9:25 PM
My son is now studying in sixth form year one could he leave this year and apply to sixth form year one again with different subjects in different school
Jaafar
- 22-Mar-17 @ 8:15 PM
Hi.I am currently a year 10 student and weighing my options. So far, I'm quite set on doing the IB Diploma programme at a Sixth Form School, as I like its study framework. But, I am considering Sixth Form Colleges too. I was wondering how many schools/colleges you can apply for. Is there a restricted amount of applications you can send, i.e. 3, or not?
Nicole
- 10-Mar-17 @ 9:00 PM
We're moving to london this summer. My son is 16. I want to find him a good school to study sixth form. Is there still time to find school and apply??
Souha
- 6-Mar-17 @ 5:42 AM
My daughter has been accepted at 2 different colleges to do A levels (gcse grade dependent) should she accept both the offers?
Penny
- 22-Jan-17 @ 5:41 PM
I am in year 9 and I'm not sure which sixth form to go to after year 11 can I have some help to chose. Thanks
High schooler
- 7-Jan-17 @ 10:23 PM
My sun in march will be 15 years old he is in year 10 can I apply for sixth forms
Mishmish
- 5-Dec-16 @ 7:21 PM
I have a 16 year old nephew who wants to start an FE course now (November). Is it still possible to get accepted? Thanks
Seeking Aunt
- 8-Nov-16 @ 2:17 AM
How many college applications can I fill out? Can I apply for different colleges or do I have to pick one?
Geo
- 15-Oct-16 @ 8:08 AM
Can you go to different sixth forms in the borough to do different courses?
Adi kumar
- 28-Sep-16 @ 9:53 PM
Are sixth forms allowed to hold students back a year. And if so is it only done for certain reasons that the law choose or can it be any reason the school decide?
Milky
- 22-Sep-16 @ 6:17 PM
Concerned - Your Question:
I am 21 years and is trying to get into six form. Is it possible?
---
Our Response:
No, I'm afraid not. You would have to apply directly to college if you wish to study further.
GetTheRightSchool
- 12-Sep-16 @ 2:34 PM
I just turned 21 I am considering sixth form... Is this possible?
Concerned
- 10-Sep-16 @ 2:06 PM
I just turned 21 am hoping to get into sixth form... Please let me knw if its possible.
Concerned
- 10-Sep-16 @ 2:03 PM