The Schools System in the UK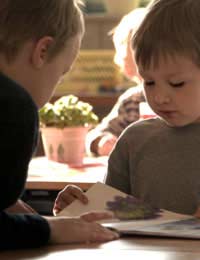 In the United Kingdom it is law that all children between the ages of 5 and 16 receive full time education. Taking into account that not all parents are in a position to provide their children with private education it is more often than not state education which is to the fore. State education is broken down into several stages.
Pre-School Education
Many children between the ages of 2 and 5 attend pre-school. This can include the government's more recent Sure Start initiative and nursery schools. At present the government is working alongside Local Authorities (LA's) to create a network of children's centres which will work alongside existing nursery schools to provide pre-schooling.
Primary Education
In the term after a child's fifth birthday they will begin primary education. The length of primary education is normally 7 years and concludes at age 11 when the child will then move into Secondary education. Primary education is divided into infants – ages 5 to 7 – and then juniors – ages 7 to 11. It is normal for both infants and juniors to be educated at the one school although in some instances there can be a separate infant's school and junior school.
Secondary Education
In the term after the child's 11th birthday they will begin their secondary education. It is now compulsory that all children attend secondary school and receive a secondary school education up until the age of 16. However it is also possible for a child to remain within secondary education until the age of 18 where they may take A Level Examinations or further vocational qualifications.
Three-Tier System
Some LA's operate a three-tier system whereby pupils can attend lower, middle and upper school. Pupils between the ages of 5 – 9 can attend first school, middle school is attended by ages 8 or 9 and then continue on to upper school at the age of 12 or 13.
Of course the types of school in the United Kingdom are then defined by how they are operated and who runs then. For example there are four types of mainstream school in the state sector. These consist of:
Community Schools: Schools which were previously county-managed schools. The local authority is responsible for employing staff, ownership of land and buildings and also decides how the process of admitting pupils is handled.
Foundation Schools: Previously grant-maintained schools but which are now run by the school governing body who assume responsibility for the employing of staff and their admissions policy. Ownership of the land and buildings may be through the governing body and/or a charitable foundation.
Voluntary-aided: A considerable number of voluntary-aided schools are church schools. A governing body will oversee the employing of staff and will decide upon admission practices whilst the land and buildings are usually owned by a charitable foundation.
Voluntary-controlled: Normally church schools with land and buildings owned by a charitable foundation: but differing from voluntary-aided schools in that the local authority is responsible for the employment of staff and also the admissions procedures.
In addition to this the school system of the United Kingdom also has:
Specialist schools: schools which specialise in areas such as Information Technology, the Arts, Languages and Sports. These schools meet the National Curriculum requirements but maintain a special interest or focus on any of the aforementioned subjects.
Grammar Schools: Local authorities still run a selective secondary school system with grammar schools. Pupils in specific areas will sit the 11-Plus and depending on the results of this test can achieve entry to a grammar school. At the present time there are around 150 grammar schools in England.
Faith Schools: A Faith school is a school which can only operate under the express agreement of both parents and the local community and is approved by the local authority. Most faith schools are voluntary-controlled and teach an agreed religious syllabus. Faith schools are responsible for their own admissions policies and teach religious subjects in accordance with their religious beliefs.
Special Needs Schools: As more and more special needs children are being taught in mainstream schools the number of Special Needs Schools is diminishing. That said however, there still remain in excess of 1,150 Special Needs schools dealing with children whose problems are more serious. A considerable number of these schools are run by voluntary and charitable organisations with the remainder being run by and/or in a hospital environment.
Pupil Referral Units: PRU's are a particular type of school who educate those children who have been excluded from mainstream education for a number of reasons. For the most part this may include teenage mothers or pupils who have been excluded from mainstream education as a result of serious behavioural problems. PRU's are fundamentally geared towards helping these pupils return to mainstream education and are run by management committees which normally consist of school governors, influential members of the community and representatives from social services.
You might also like...
I am currently working in India and relocating to London by the end of this year/beginning of 2019. I have two children aged 16 and 10. My daughter, has completed her CBSE 10th grade here with high scores and is currently in 11th grade with Math,Physics,Chemistry,Biology and English – she wants to pursue Medicine as her career. My son, aged 10, is in 5th grade CBSE board. Both have got good grades here and I want to give them the best education possible when we move to the UK and help them in smoothly transitioning to that system. Kindly let me know the best option for both the children: School year that they can apply for i.e. (a) Join ongoing school year mid-way i.e. sometime in January 2019 OR (b) Complete current grade in India in March 2019 and join last term from April OR (c) starting from School-year starting in September 2019 with any bridging option between April 2019 and August 2019. I would be obliged if guidance could be given on above to enable a smooth transition for my children.
SSK
- 25-Sep-18 @ 12:56 PM
Can you please advise on - after a divorce i will have to move kids from private school. My daughter is born on 1.9 and she is one year ahead due to being at private school, did special entry test etc now in yr 5. ( should be in Year 4) If moved to non private school ie catholic or grammar , would she be force to repeat a year ( now A star student even she is youngest in class ) or can she continue as she would since she is already in the schooling system? Thank you for any advice .
could you please explain me: if a child missed the exam to grammar school at the age of 10 , is there any possibility to get into grammar school later in year 8 or 9 ? thanks
Zara
- 14-Oct-17 @ 9:12 PM
@Zahra - you will need to contact your local LEA directly. You can find a list via the link
here
. You may also find the schools admission link
here
useful. I hope this helps.
GetTheRightSchool
- 22-Apr-15 @ 10:23 AM
Hi,my husband and two kids are moving to the uk next year. My husband is South African and my children aged 10 Ad 2 are both british.My son is in grade 4 in South African and our terms end in December and begin in January. I desperately need some advise ....when is the best time for him to start school in the uk? September next year as school starts in September. Also he will be 11 when I'm in the uk so will he be in primary or secondary. Thanks in advance for any advice.
Zahra
- 20-Apr-15 @ 7:29 AM