Sixth Form Applications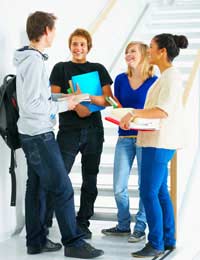 A teenager's sixth form (or Key Stage five) education is a very important time. These final two years of secondary schooling are optional, and are an opportunity for students aged 16 to 18 to make serious and important decisions about their future plans.
Normally sixth formers work on their preparation for qualifications such as A Level exams, although increasing numbers of schools and sixth form colleges are opting for alternative qualifications such as the International Baccalaureate and vocational subjects such as GNVQs. Teaching quality and facilities have a significant impact on the nature of qualifications that students receive, and these obviously will really play a part in students' future plans. So it's really important that parents and students think carefully about selecting a sixth form learning institution.
The Options
Most UK students either stay on at school to study for in a school's sixth form, which may be split up into 'Lower Sixth' and 'Upper Sixth' at some schools, or attend 'sixth form colleges' also known as 'further education colleges'.
How to Decide
The first question to consider is what your child wants to study. Obviously the factors include a look at the subjects that he or she is best at, and enjoys most, but also what subjects are required for the more long-term life plans. Wannabe doctors, for example, will have to do science A Levels.
Consider what kind of teaching structure works best - colleges, for example, will usually teach in larger scales than small sixth form classes at private schools. Look at whether your school or college options provide the academic qualifications that you need, be they AS or A levels, or BTECs, City and Guilds or OCR Nationals. Some colleges also offer the new Diploma qualification for 14 to 19 year olds, so look into what is available.
Further Education Colleges - More Information
At a further education college, the whole curriculum is geared around older students. Your classmates may include older adults as well as young people, and the college may specialise in a specific sector - such as art and design, or sport. There may be more social activities organised for people of your age, but equally some further education colleges might only focus on providing an education and ignore the extra curricular activities that are routinely provided as a matter of course at many sixth forms within secondary schools. As these colleges are usually larger scale, they may be further from your house. Consider whether a longer daily commute is worth the benefits.
When to Apply
Most colleges and sixth forms within schools will start to open their application process in the autumn term of Year 11. This is the time when you and your child should be visiting colleges and schools, going to open days, talking to former and current students and finding out more about the studying options available. Note, however, that normally it is not necessary to submit an application if you want to remain at your current school's own sixth form.
You might also like...
looking for alevel
aadith
- 3-Jul-23 @ 10:12 PM
Hi there, I am a student from Ghana and looking to study medicine to become a medical doctor. I've converted my West African Senior School Certificate through Naric UK. Read as follows: UK frame work levels RQF LEVEL 2/SCQF LEVEL 5 CQFW LEVEL 2 COMPARABLE UK QUALIFICATION: GCSE(GRADES A-C/9-4 SCOTTISH NATIONAL 5(GRADE A-C) INTERMEDIATE WELSH BACCALAUREATE GCSE - MATHSEQUIVALENT GCSE - ENGLISH EQUIVALENT I don't know if the above grades is enough to enrolled in university or I'll need to do two years six form. Kindly advice Best regards Audrey Plassi
Esi
- 27-Sep-21 @ 10:23 AM
i want to go to a sixth form near milton keynes way but i am not exactly sure what one i want to go to or what subject to take. I like business and marketing and i am very passionate at art.
daisy
- 19-Jun-21 @ 1:29 PM
Hi I want to become a lawyer but I'm not 100% sure I want to stay in that current path so what subject would I have to take to do law and other subjects too
Jerry
- 8-Jan-21 @ 9:57 AM
Hi is there a closing date for 6th Form applications on the Kent choice website 2020? (For students starting 2021) Also is there a limit on the 6th forms they can apply to? This is for Kent County Many thanks
Law
- 28-Nov-20 @ 5:41 PM
I'm in year 11 now and wondering if I should start applying to colleges or looking into application/enrolment events? When is the right time to do so.
Saire
- 10-Nov-20 @ 10:05 PM
@Hira Oh, to answer your question: ** A-level is the name of the curriculum they study for 2 years / the qualification they receive after passing their exam in the 2nd year, students usually study 3-4 subjects, depending on the school. ** 6th form (also known as Post-16) relates to their final years of compulsory education (6th formers =Year 12 and 13 students) before University or work. This could be a 6th form college, or 6th form provided by a secondary school. **IB is an alternative choice of curriculum(2 years) that provides them with a Diploma in 6 of their chosen subjects, they also have a career related route, where they would normally only study 2-3 of the diploma subjects and some schools allow you to add a BTEC subject onto it as well. **BTEC courses are also an option, this is more focused on 1 subject usually **I still highly recommend IB as choice 1, and A-Level as an alternative at a 6th form secondary school. -- I hope this helps -- Good luck :)
@Hira Have you looked into International Baccalaureate instead of A-Levels? This is a very good programme especially for international students. Depending on the area you live in there are a few really really good state schools offering IB instead of A-Levels, they may also still be able to offer you a place for this year. We are actually relocating for next year as my daughter wants to do IB. Good luck!
Hello,we just arrived from spain. My daughter age is 16 year.we applied for sixform but not got admisson in 2020 they said its too late .what to do what option for my daughter .she can't waste her year plz give me advice and one more question what isdifferent between A levels and sixform.
Hira
- 22-Oct-20 @ 9:16 PM
Hello,we just arrived from spain. My daughter age is 16 year.we applied for sixformbut not got admisson in 2020 they said its too late .what to do what option for my daughter .she can't waste her year plz give me advice
Hira
- 21-Oct-20 @ 4:41 PM
Please help. We just arrived and our 16 year old has been told it's too late to join in the 2020 year for sixth form. We can't wait another year to get her started. What are our options?
Iza
- 12-Oct-20 @ 6:58 PM
We are thinking of relocating from Leicestershire to Yorkshire. My daughter is currently yr11 & wants to go to 6th Form. How do I go about applying if we don't know exactly when or where we are moving to. Do schools have to keep a certain number of places available for pupils moving into the area, like primary & secondary schools? TIA
SVR
- 10-Oct-20 @ 7:33 PM
To all you lot asking if you can go to sixth form but you either went college or skipped year 12 you still can apply when you should be year 13 you will just be put back a year back to year 12 and go from there thats what i did im going into year 12 but im 17
Ben
- 27-Aug-20 @ 12:31 PM
Hi, My goddaughter, an EU citizen, would like to do her A-level studies in the UK whilst me, an UK resident, will become her guardian. Could she apply to state-funded colleges given the circumstances? Thank you, Irina
Anca
- 25-Aug-20 @ 11:30 PM
Hi, my son want to apply for sixth form how are we going to apply for it and where are we going to apply for it ,we live in Glasgow. Thank you
Roseline
- 20-Aug-20 @ 1:04 PM
I decided to go to college after year11 but now I want to go to sixth form I'm wondering wether I would be aloud to apply for sixth form having being to college. I was wondering if I did go to sixth form if I would have to go into year 12 or if I would be able to go into year 13 without doing year 12. I've also thought about if I would be able to do year 12 and then do my exams without doing year 13?
Anonymous
- 8-Jul-20 @ 6:11 PM
I have just finished my application for the sixth form I want to apply but its late is there any opportunity to enter the sixth form
ritta
- 8-Jun-20 @ 5:24 PM
We are relocating back to UK from Spain in June 2020.My son has passed his Eso exams and needs to apply to a school to continue in sixth grade or a college.He wants to study architecture or design.Where do we apply and can he do his A level Spanish straight away?Thanks
My boy is in year 11. With the coronavirus his now finished school and not doing GCSE. We was going to a college to get advice on what he wants to do and how to apply etc. He is my eldest so I don't know how this works. I know I am very late. But any advice on what I can do for him to start 6 form in Sep please
Claire
- 17-Apr-20 @ 6:18 PM
Hi am currently year 10 and weighing up the sixth forms andI was wondering how many years ahead can I Apply to sixth form.
Elle
- 18-Mar-20 @ 10:16 PM
Hi, my son is in yr 10 when do I need to apply for 6th form
Lucy
- 27-Feb-20 @ 10:32 PM
Hi I was wondering if I can get into sixth form in 2020 September next year because I did my GCSE last yr and I should be in year 12 this year but I decided to take a gap year which would make me 17 if I go sixth form next year.
gigi
- 15-Feb-20 @ 6:48 PM
Hi my daughter is in year11.I would like her to apply for 6th form for science subjects. Can anyone help me with what is best time to apply for it.
My son didnt get into his schools sixth form at we now to late to apply for other sixth forms or college have we missed all the deadlines school was not very helpful with what we do now
Someone
- 23-Aug-19 @ 9:12 AM
Hi I need a help please. My son didn't get place in 6 form last year so he chose collage but he didn't complete that with collage now it like he wasted full year. I'm worried for his future. Thinking of if he still can apply for 6 form again
Mrs r parveen
- 29-Jun-19 @ 1:05 AM
My daughter has 3A*to 2A, 3B and 1C. Her school say that she may have to leave the 6th form because the did not get 9A to A*. Dose any one know of any good 6th form school. Privet or otherwise. Thanks
Den
- 9-Oct-18 @ 11:34 AM
My son is currently in Grade 10 at an independent private school in South Africa. They write the IEB exams. He will finish the grade at the end of the year.We are relocating back to the UK early next year and he would like to continue his education.Would he be eligible for to study for his A levels with his grade 10 results? Also being as the school year is totally different in the UK would he have to wait until September?By then he will be 17 years old. Any advice would be appreciated.
My niece has just arrived from Colombia,her 16th was August last year 2017,making her too old to join a school,my local Enfield council has said that she has to contact directly the sixth form schools and colleges but they all require for her to GCSEs or equivalent but she hasn't got any ,what do I do? Where can she go to get those required GCSEs if she is too old for school and too under qualified for the sixth form colleges??? Please help
Prey13
- 18-Jan-18 @ 6:31 AM
Am looking for a sixth Form that will have time for me to get the best education and also am dislexic I fine it hard to read and write so I need sixrh for the will he me so My best also I won't one that is close to me
Joyce
- 15-Aug-17 @ 11:37 PM
Hi I really need some help please. My partner is from Brazil and has been here for five years. She is on her ex husband's spouse visa. Her teenage son and daughter have joined. Its time for her son to go to sixth form. His English is fluent and he has good grades. His current independent school is trying to convince him he cannot go to a state school and needs to pay. Can anyone advise on this matter please. Thanks
Alex
- 8-Aug-17 @ 5:36 PM