Target Grades for Sixth Form Entry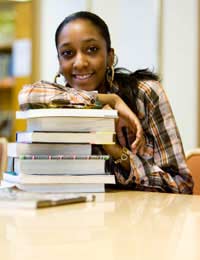 Many children now wish to advance to Sixth Form upon finished their GCSE's in an attempt to gain further qualifications such as 'A' Levels and other vocational qualifications.
In order to do this however there are minimum requirements made of most sixth form colleges in order for your child to gain a place.
Sixth form colleges are now becoming increasingly popular and most towns and cities have at least one whilst the days of sixth forms in mainstream comprehensive and grammar schools are now seemingly numbered in line with the government's educational reforms which stipulate that sixth form colleges and academies can offer more in the way of sixth form study.
To say that the criteria for gaining a place in sixth form education is standardised would be ill advised. Indeed it is now common for sixth form colleges to operate their admissions processes using varying criteria from college to college.
Again it is worth checking with the sixth form colleges themselves and also with the local education authorities to find out what these entry grades and requirements are but we can offer a general overview which will help you along the way.
Minimum Requirements
Firstly it is useful to know that most sixth form colleges have an admissions secretary who can answer any specific questions you have regarding the admissions process. He or she will be only too happy to provide you with a list of subjects and grades required as well as how to go about applying for a place.
Usually applications for entry into sixth form are required by the 6th of January in the year of entry. So if your child wishes to enter sixth form education in September of 2008 for example completed applications should be returned by 6th January 2008. Again check with the sixth form college of choice as this may vary and discretion may be allowed depending on the circumstances.
A large number of sixth form colleges look for a minimum of six GCSE examination results, the grades of which can vary from college to college and also depending on the subjects your child wishes to take: most however look for a minimum of five GCSE exam results varying in grade from A* to C.
Some schools and colleges set a minimum requirement for required subject grades for particular courses. These will differ from school to school or college and are meant to indicate the kind of performance at GCSE level which is required to be successful in the 16+ course that is being applied for.
Exceptional Circumstances
As in all levels of education, certain exceptional circumstances have provisions made for them. Some local education authorities may exercise discretion in awarding places if the individual could benefit from the programme that is offered in a sixth form college but, because of his/her circumstances, has not met the entry criteria.
These circumstances incorporate students who require special needs education or who have a physical disability, which can only be met by a particular school or college. Also asylum seekers and/or pupils who do not speak English as their first language could benefit from a place in sixth form.
Again it is important to understand that these are exceptional circumstances and as such placements in lieu of these are offered only at the local education authority and Sixth Form College's discretion. It is not to be taken as read that a place will be offered on the basis of any of these circumstances.
Priority of Placements
The allocation of places for pupils is again monitored closely and can only be permitted if the circumstances and criteria are met. As a result of this the normal rule of thumb applies whereby a pupil meeting the examination grades and living in the catchment area will be offered a place before a pupil who say meets the grades but lives outside the catchment area.
Likewise should places be available and a pupil wishes to attend but lives in another catchment area, a place will be granted once all places are filled by those people who have met the aforementioned criteria and admission rules.
If you are in doubt as to whether your child meets the criteria before applying then contact the sixth form college or the local education authority and ask them to advise you on what chance your child has and what steps to take to increase your child's chances of success.
You might also like...
Do sixth form chose who they want or do they base your place on who got the highest ?
Amani
- 8-Jul-21 @ 1:51 AM
My son wants to pursue medical career. What GCSE subjects he needs to enter in A level in order to pursue medicine?
Sumara Riaz
- 25-Jun-21 @ 7:32 PM
My son is doing his GCSE this year. He is hoping to go back to his school and didn't apply other six form school. I wonder if he can't getback in,what else options he has? Thank you
Scarfy
- 20-Apr-21 @ 4:54 PM
If we dont get the grades.can we stay in the same school sixth form. Please can you help me. Thank you Kind regards Raj.
We are planning to move to a different county in summer 2022 but my son will need apply for 6th form in Autumn 2021.Will it be a problem in getting a place since we wouldn't at the time be living in the area?Do you have any advice?
Val
- 13-Feb-21 @ 10:46 AM
What is the process of application to 6th form. Open day/evenings -Oct/Nov'20 Student applications Formal offer by March '21 Student acceptance Admissions -Aug '21 Is there anything in between a student applying and the school making a formal offer in the spring? Does the school acknowledge/or send any acceptance letters out after applying and prior to formal offers? Thank you for your help!
Hi, My son is study in Year 11 GCSE we want to apply in good sixth form but I don't know how I m Help him about his course subject He like to do computer science but he is not sure.. Can you help us to make choices for subject which Good for his future planning in university is computer science is good line for future life... Thank youSharmila
Baby
- 17-Oct-20 @ 10:46 PM
Hi, I am 15, I am taking biology, maths and enviromental science A-Levels, I am not entirely sure what university corses I could take and what jobs I could go into. please may you give me some advice? many thanks Bonita
Bonita
- 5-Aug-20 @ 12:36 AM
Can my son move area before his predicted grades are given or does he need to stay in the same area till predicted grades are given. Thank you
Tazman
- 25-Mar-20 @ 9:20 PM
My son did find place in schools to do GCSE in this year. Can he do it in another way in year 2020 /2021 how and where in UK
Kareem
- 20-Jan-20 @ 9:21 PM
I am going to be in year 11 and take my GCSE next year. I am looking to become a Haematologist. I wanted to know what GCSE qualification do I need to go to six form. THANK YOU
Kinthu
- 24-Aug-19 @ 7:37 PM
Pls is it possible to still apply even if i wont be available on the admission day or is it possible to do it on skype or send someone
Becca
- 16-Aug-19 @ 7:25 PM
@Tricia- yes, you can do that. My son accepted a place at 6th form college - but went to a different college instead.
AmY
- 13-Apr-18 @ 12:41 PM
My daughter has been offered places in 2 different sixth form colleges. She is uncertain which one she wants to go to. Can she accept both places and make her decision after her GCSE results in the summer?
Tricia
- 12-Apr-18 @ 7:09 PM
What if you were late for applying to sixth form? Is there a chace to do it later?
Leon
- 10-Jan-18 @ 4:44 PM
My son is 14 years old and is a British citizen. He has been living in the UK for 12 years but is not studying in there since the last 2 years. However, he wishes to return to the UK after completing his IGCSE'S, which will be finished around June 2019. IGCSE'S are the international equivalent of GCSE'S in the UK, and is a Cambridge affiliated board. I wish to know how he can get admission into a good 6th form school, and what are the requirements for it. Please help......
Mike
- 22-Aug-17 @ 2:13 PM
If you do include an architect profession, then above what grade do i need to have?
Mimi2003
- 23-Feb-17 @ 8:23 PM
Can you learn for an architect in 6th Form in Colchester?
Mimi2003
- 23-Feb-17 @ 8:21 PM
My name is faith-divine and i needs to resit my GCSE Maths. Do you have any course that start this September
Faithy
- 30-Aug-16 @ 4:04 PM
Would I be able to join a sixth form in January, if I move? Or do I have to wait until September?
Becca
- 30-Aug-16 @ 10:32 AM
My daughter just got her IGSCE results with 3B and 4C with the B in mathematics, physics and English literature. Want her to study computer sciences at the university what combination can she study at A levels with this results.
Jimmy
- 23-Aug-16 @ 12:13 PM
My son is a British citizen but we are currently living not living in the UK.I would like to move back in 2018 for him to start A levels. I am not sure where I will be living as yet. Can you assist me /advice me on how to start the application process. Also, do we have to come before for an interview etc or can this be done via Skype. Please letme know.
246
- 19-Jun-16 @ 7:35 PM
What if you were late for applying to sixth form?? Can't the children apply to sixth form after they get their results in sep?
Slacker
- 12-Jan-16 @ 6:46 PM
We are moving house/area with our job.We wont know where we will be sent until the middle of February 2016.My son will be moving with us and wishes ro attend sixform in 2016.Doing GCSE IN Summer 2016.Will there still be places for him to apply for when we know where we are moving too?
Dawn
- 12-Nov-15 @ 5:26 PM
Please send me application for my nephew who is 17 years. He at the moment in india but I want him to get admission in Sept 2015. Please contact me eother via email or send me form on 4 Jersey court, Grosvenor road, Sourhall, UB2 4BW
ARSHDEEP
- 4-Jun-15 @ 8:18 AM
For how many sixth form colleges can my son apply? Is there any limit as for secondary schools?
anna
- 2-Jun-15 @ 2:06 PM
@123 - you can accept all, and once she has done exams she can confirm which ones she would like to choose. Just make sure you check the terms and conditions as they should also explain.
Emma
- 19-May-15 @ 12:31 PM
My daughter is applying to 3 sixth form colleges - can she accept all the offers or once she has accepted one is that it?Thanks for any advice on this.
123
- 15-May-15 @ 4:10 PM
I think this is really a fantastic adia
koo
- 17-Apr-15 @ 6:38 AM
my son is in year 10. I want him to attend six from in a private schoolike. I will like a financial help for him to finish his studies.
Make
- 22-Sep-14 @ 5:19 PM