Lottery for School Places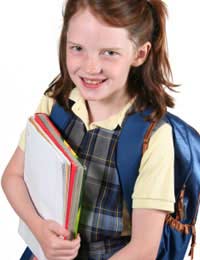 Nowadays it is a fact that there are a lot more children seeking education through our schools system here in the United Kingdom. As a result of which it has become something of a lottery to secure a place for your child and this is sometimes due in part to one of several factors.
Location
Location – whether we would like to admit to it or not – is sometimes the most important factor in the school place 'lottery' and this is because not all parents live within a particular catchment area. The catchment area is a district or region designated by the local education authority within which pupils are more likely to gain a place than if they lived beyond its borders. This can be problematic if you live beyond the catchment area and wish your child to attend a school within it as priority is given to children who live closer to the school than others.
There are of course exceptions to this rule which may include certain grammar schools – who operating the 11+ exam as a means of determining suitable candidates – can look beyond their catchments area. Also if you wish your child to attend a private school this is less likely to be a problem but in saying that not everyone can afford to send their child to private school.
The Sibling Factor
This is covered in another article,
The Sibling Factor
.The Sibling Factor is something else which can be something of a lottery. The general principle of 'The Sibling Factor' is that if you already have a child placed at a particular school it may help your chances of having another child placed there. This is of course on the understanding that the child is a brother or sister of the child already at school and also that the sibling already in schooling is still there when the second child starts. Again this is in itself something of a gamble because the allocation of places may be limited in certain areas given certain criteria.
Admission Rules
Most state schools operate along the same lines in regards to Admission rules but there are some exceptions. In the main these exceptions occur in schools that perhaps offer a particular religious subject. Faith schools tend to have their own admissions policies and as such have a leaning towards members of their own faith although they can – and do – sometimes accept pupils who are not of that denomination. Special needs schools also operate differently and require that your child undertake a series of assessments to determine the extent of their needs but it is now becoming common practice for mainstream schools to try and absorb these children into their numbers which has resulted in a down turn in the number of special needs schools currently operating in the United Kingdom.
School Sizes
This has to be the one element of finding a school for your child where the most problems can arise. It is not always possible to place your child at the school of your choice and this is again sometimes beyond anything you can do to ensure that your child does get a place. It is simply that sometimes some schools are more popular than others and that the number of places is allocated before they have a chance to consider your application. It is unfortunate that this happens but alas there is not much that can be done. A school may sometimes be very popular because of its resources or simply that it is in an area that has a high volume of residents.
All one can do to minimise the above from being the cause of any disappoint is to start the process of seeking admissions early and speaking whenever possible to the school teachers the local education authority and also parents who have children attending the school of your choice.
You might also like...
We had to move from Chingford as our landlord was selling. We have moved to South Ockendon (21/02/15). Since moving our 6 year old daughter has not been given a place at any school other than one 3 miles away in south stifford ( a bus ride for a then 5 and a half year old). My wife doesn't drive and suffers from BI-POLAR DISORDER, I am self employed. We applied to LEA for a place prior to moving and I have contacted the admissions every week. Benyon School is a 5 minute walk from our school and in February I was advised that our daughter was 2nd on the list with regards a placement in year 1. Then in late June I was advised that I would have to reapply for a place in year 2 for our daughter. Now yet again I have been advised that there is no place for our daughter in year 2....When I asked as to the number of children in front of our daughter at a Bonnygate (next closest tou our home) I was told that there were 17 children in front of our daughter....
Nez
- 27-Jul-15 @ 2:53 PM
I would like to know how i can get assistance with a school uniform amd school fees
ESTELLE
- 23-Aug-12 @ 3:05 AM