School Uniforms and Financial Help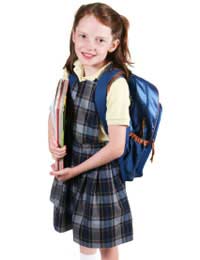 We are all aware that our children have to wear a school uniform when they are attending school. Whereas this is not an issue with nursery school – unless it is part of a three-tier system or a feeder school – it does become an issue when your child begins primary school or secondary school.It is also fair to say that the cost of school uniforms is something that some parents – particularly those on low incomes and benefits – struggle with.
Most schools have what they term as a 'preferred supplier' or 'preferred suppliers' of their uniform especially if they are in a small district. Other schools in larger areas offer the facility to obtain their uniforms from more than one outlet within that area and it is in this regard that the prices can vary.
Typical Uniform
The common uniform consists of trousers, shirt, jumper, tie and blazer for the boys, and skirt, blouse, jumper and tie for the girls and also obviously shoes fall under the umbrella of uniform as well. There is also the issue of attire for Physical Education to be taken into consideration.
The idea of the uniform is so that all children conform to a similar style as means of cutting out any issues of class divide and indeed bullying. It is not unknown for children to be bullied because they do not have the correct uniform and are seen to be of a lesser background than some of their counterparts. So to this end, the uniform is an integral part of the schooling system in the United Kingdom and to this end there is – in certain circumstances – financial assistance available to those families who are either low-income families or indeed the recipients of benefits.
It is important to remember also that certain pupils who practice a particular religion may be exempt from the school uniforms policy if their religion dictates that a particular head dress or garment should be worn.
Financial Assistance
Some Local Education Authorities do offer financial assistance to parents who would otherwise struggle with the cost of school uniforms. On this basis, if you are a parent on a low income or are in receipt of benefits, then you should contact the school at which your child will be attending or speak directly to the Local Education Authority. If financial assistance is available – which again it is important to stipulate is not always the case – then they will advise you on how best to apply for such assistance, which normally involves completing a series of forms and also providing proof of your income or benefit status.
Some LEAs however do not offer financial assistance in the conventional sense but do operate what is known as a School Benevolent Fund. This is a private fund operated by the LEA and offers a payment of up to £25 per eligible child. This can be used towards a winter coat or shoes but this can only be awarded twice within the schooling life of your child. This happens once in Primary School education and once again in Secondary school education.
Again it is worth checking with your LEA if you are eligible for one or the other of the aforementioned means of assistance. But it is something that you should look into should you feel that you are unable to fully cover the cost of uniforms and also if you feel you are eligible for it.
You might also like...
I have twin boys that are due to start high school .one is autisicand have sensoryissues .is thereany finacialhelp I could apply for school uniform ?
Jacque
- 25-Jul-18 @ 3:41 PM
do you have an "about us" page because i'm doing an argument essay about school uniforms
Danny Boy
- 8-Mar-16 @ 10:04 PM
@Kassie - if you do an online search for the costs of school uniforms, you should be able to find a lot out to help you with your project.
GetTheRightSchool
- 2-Mar-15 @ 12:55 PM
Hi i am doing a research paper about uniforms i agree with them the school i am going to has them and i was wonderig if you could help me on the finacially part
Kassie
- 27-Feb-15 @ 12:02 AM
to who it make concern could you please send me some more information as school uniform am single mum of 4 boys all at school and need financial support within the Lincoln area school attending Lincoln castle academy and Lincoln collage tracy fox 07903135750
foxt.com
- 6-Aug-13 @ 7:59 PM