How Exam Results Affect Your Child's Chances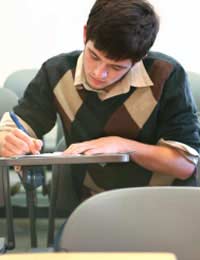 Throughout your child's schooling, examinations will play a crucial part in what classes they will move to, and also into what area - or line of work - they may wish to strive for upon leaving school.
With the 11+ examination, for example, the purpose of the examination is to help your child gain a place at a grammar school which you, as their parent, have selected. It should be taken seriously - but not too seriously - so as not to distract your child, or make them feel that they lack the necessary abilities to succeed.
The same can be said of GCSE examinations and also 'A' Levels, although by the time 'A' Level examinations are due to be taken, it is reasonable to expect your child should be able to manage their own time and learning effectively, without too much parental involvement.
GCSEs
With GCSE's, however, it is still very much a necessity that the parent(s) are involved as much as possible. GCSE's after all are important if your child wishes to study further education or vocational qualifications outside the mainstream.
We all know how important examination results now are in today's society, especially from a career perspective. If someone attends a job interview with five GCSE's, and is then followed by someone with only two, it is only natural that an employer would plump for the individual with five. This not only shows more attention to their schooling as a whole, but also gives an indication as to that person's motivation and creativity.
Of course many parents would say that during their schooling, examinations did not play as important a role, and indeed some might say that they left school with the minimum number of examinations under their belt. But this is no reason to allow the same for your child. It is of the utmost importance that they are encouraged and helped wherever possible.
Another important decision is when choosing the subjects for your child's GCSE syllabus. Spend time with them and discuss the list of subjects available. Discuss which one's they must take - by law - and which ones they would like to take.
For example, it is perhaps a waste of time your child taking a language subject if their primary interests are Information Technology or a science subject.
Again it is worth discussing with your child what area of work they would like to be involved in when they leave school. Careers advice is available from their school, as well as many outsourced organisations, and it is worth speaking with them in the company of your child and looking at their options.
Choosing their examinations for a two year period is important and has to be thought through carefully with the emphasis on what they want to do, as opposed to what you, as a parent, think they should do.
Choose wisely and carefully and you will find that at the end of the proceedings, your child should come away with acceptable results, which will set them in good stead for further education or for entering the world of full-time employment.
You might also like...