What Are Statemented Provisions?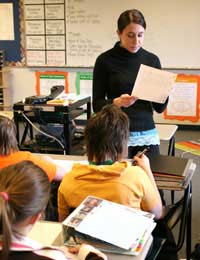 Statemented provisions are the criteria set out by your child's school – and Local Education Authority (LEA) – that will determine how your child will be schooled given that they have a special educational needs requirement.
By law, Statemented Provisions must indicate how your child will be schooled for a period of 12 months. But it is worth noting at this stage that the procedure for having Statemented Provisions put in place can take up to six months. So if you think your child needs to have such provisions, it is a case of acting sooner rather than later.
What Statemented Provisions Are Used For?
Statemented Provisions come into force when a child has:
Profound emotional difficulties
Profound learning difficulties
Severe communication problems
Difficulties with development
Physical disabilities
If your child suffers from one or more of the aforementioned, then he or she may well qualify for Statemented Provisions.
Your child's school, in conjunction with the LEA, will have to meet to assess your child's condition and decide on a course of action that will allow for them to have an education in line with able bodied pupils or pupils without problems.
Roughly 3% of all children at schooling age are formally Statemented and this is because of the nature of the difficulties and disabilities that Statemented Provisions cover.
Simply put, your child would have to be suffering from extreme learning difficulties before he or she is officially Statemented. In which case it is likely that your child will have to be assessed by the LEA, a school psychologist, an independent doctor and perhaps a clinical social worker before any decision is settled upon.
Applying for Statemented Provisions
In order to meet this criteria your child will be assessed, interviewed and monitored for a period of time, while reports are drawn up by the Educational Psychologist (School Psychologist) and other relevant personnel such as your child's teachers.
You may also be asked to make a statement to give your own views on your child's condition and what action you think may need to be taken.
As mentioned, this process can take anything up to six months but there is no guarantee that at the end of the process a Statement of Provision will be issued.
This does happen quite a lot as LEAs may not necessarily consider your child's difficulties to be as severe as you do. In this instance, you can appeal the decision of the LEA using a tribunal, but you should also be aware that in order for a tribunal to hear your case you may again have a lengthy wait.
If you feel your child should have a Statement of Provision but has not been granted one, you should first of all speak to their headteacher and ask for a detailed report on their schooling and how they are progressing. Speak to their teachers if at all possible before proceeding.
There are many websites devoted to the subject and many voluntary organisations – most of which are run by parents who have been through the Statemented Provisions procedure themselves.
In addition, you should contact your LEA and ask for any information and advice that they can give.
You might also like...
Can I pay private for esc to statement my son over children who r on waiting list longer
Clatky
- 12-Feb-21 @ 10:53 PM
Hi if I go private can I get my child statemented. With out school and just by the esc
Clatky
- 12-Feb-21 @ 10:52 PM
You need to contact your child's school and your LEA who will then assess your child.
GetTheRightSchool
- 22-Jul-11 @ 12:38 PM
Hi, I would like to know more about being Statemented for my child. I am statmented and so is my husbend. I feel my child needs to be tested. What should I do? Thank you, Natalie
natalie
- 22-Jul-11 @ 12:16 PM
I have had my son assessed by a Dyslexic School who have informed me he is dyslexic and would benefit from attending a dyslexic school.He' s 10 and attending a mainstream school who help once a week with sounds and reading.I would like to get him to a school which will help him as he lacks confidence.Why won't a school just statement children with SpLd and how do I get them to do it when they keep saying he's improving but not along side his peers?
clair
- 21-Mar-11 @ 1:13 PM