What is the National Curriculum?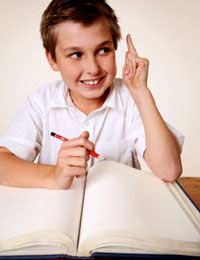 The National Curriculum is something that we all – as parents – have heard a lot about over the last few years especially since the Department of Education in the United Kingdom has overhauled it to bring it into line with 21st Century teaching in our children's schools.
In simple layman's terms the National Curriculum is a benchmark that all children of schooling age are required to be taught to. It is a standard that over the years has changed and indeed many of us as parents will look upon the National Curriculum of today and measure it against the Curriculum of our own schooling and see that – for the most part – it has greatly improved.
The Old Curriculum
To quantify the National Curriculum we have to look at what has gone before and in days gone by the Curriculum was based upon the understanding that all children of schooling age would have a firm grounding in English Mathematics and a Science subject. Now, however, the National Curriculum not only teaches our children a variety of diverse subjects but also sets out to help improve our children's quality of learning and indeed their ability to learn.
We have all heard stories of parents who have left school with little or nothing in the way of qualifications and the National Curriculum of today sets out to make this a thing of the past and ensure that all children leave school with a number of examinations under their belt and also a knowledgeable understanding of these subjects.
The Curriculum Today
It is broken down into Key Stages, which assess your child's ability to learn in primary school and indeed forms the framework of the standard of education they will receive when they make the move to secondary, comprehensive or grammar school.
It is also used as a benchmark for not only what it taught to children but also how their lessons are delivered by the teachers overseeing their education. Although it provides the basis of learning and understanding for both children and teachers alike it does not stilt the teachers' ability to teach their classes in a way that is both informative and enjoyable – two factors which are key to ensuring your child performs well whilst at school.
As we know children develop and learn at different levels and speeds and as such the National Curriculum takes these factors into consideration and allows for movement and also allows for the inclusion of children who would normally be excluded from mainstream schooling, for example those child who meet the special needs criteria and how would have – in the past – been segregated in schools outside the field of mainstream education.
The curriculum also provides teachers with the opportunity and the means to expand on subjects that include other cultures and religions giving all children grounding in their own religions and cultures and those of other children who may be attending school with them. This in itself is a major step forward in the teaching of today as it is now a requirement that all children – regardless of creed or colour or religion – are taught to an accept standard across the board.
In short the National Curriculum is something that – although it has its detractors as with any set of guidelines – is there for one purpose and one purpose only: Making sure our children receive the highest standard of education possible.
You might also like...