How Schools Implement School Improvement Plans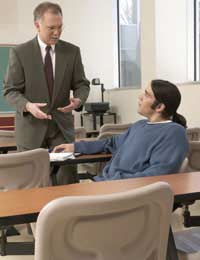 Whether they're aiming to meet certain target, make general changes or have a complete turn-around in improvement, all schools will be involved in improvement plans at some stage. But how do they go about implementing such plans?
Schools are constantly being encouraged to raise their standards and improve in many ways. As a result of the 2008 budget, for example, over 600 secondary schools in the UK have been given three years to improve or face closure. The move came as the government stepped up its drive to try and raise standards and meet the target of having no schools where less than 30% of pupils achieve five A*-C GCSEs.
If schools don't manage to reach the government's target by 2011, they will be subject to formal intervention. It's not known exactly what this will entails, but experts have suggested it cold involve schools being taken over, run by private academies or even shut down completely.
Even schools that don't fall into the pinpointed group of schools that aren't making the national targets use school improvement plans. For head teachers and all those involved in running a school, work has to continually be underway to keep up standards and do the best they can for the lives and education of their pupils.
Ways of Implementing Plans
There are a variety of ways of getting down to business and implementing the plans. Schools will inevitably vary with exactly how they go about doing this and how they prioritise their key issues, but there are some methods that are commonly used.
Deciding Priorities
To decide on what the priorities are, schools may use a SWOT analysis to help consider the various issues that affect the school. This looks at the strengths (S), weaknesses (W), opportunities (O) and threats (T) and is a useful tool to use.
Questions may arise from this, such as:
How well is the school doing?How does the school compare with other similar schools?What more should the school be doing to meet its aims?What must be done to make this happen?
The answers from the questions, which are likely to be discussed at length within the management team, staff and governors, will help propel the implementation plan forward. The school should already have had some form of School Development Plan in existence, so it's useful to compare any responses and findings from this discussion with the original development plan. It can help highlight where things may have gone wrong, or strayed from original plans, and pinpoint what needs to be done to take things forward.
Working With the Governors
Schools are likely to work in close conjunction with their governors, who can help flesh out issues and develop a long term action plan. They're an important part of the equation.
Linking Up With Other Schools
Some schools benefit from linking up with other schools, so they can gain extra support and encouragement. Trials involving such support networks have often found that linking up a school that's done well with a weaker or poorly performing school can have a positive impact on the latter.
It's worth bearing in mind that schools should provide details of any school improvement plans for parents, should they wish to see what's going on. Often information can be found on a school's website, or by contacting the school.
As with all the best made plans, the improvements may not be visible immediately. But as the plan is brought to fruition and everyone works had at fulfilling their role, positive changes and improvements should gradually be apparent.
You might also like...
good article and this site has a high pagerank, salute to this website. I like thank for you, I wait for the next article
I am a newly appointed principal and the school is underperforming the past three years. I am having a challenge on how to develop school improvement plan and link it with strategic plan.
Sebina ka mosela
- 28-Dec-13 @ 6:45 AM