Secondary School Criteria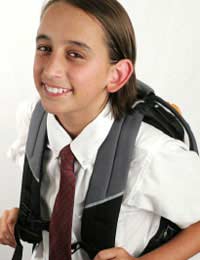 Secondary school places in the United Kingdom are limited, physically, by the number of pupils a school can take in any one school year. If the number of pupils vying for a place at a particular school outweighs the number of places physically available then it is reasonable to assume that not everyone will be successful.
This is how a school becomes classified as 'oversubscribed'. This is why it is suggested that you have more than one option when it comes to choosing a school.
Should a school be classified as 'oversubscribed' then there are set criteria, which must be taken into account when allocating available places. These criteria may vary from school to school based on individual admission policies but generally the following are taken into account:
Medical Reasons – If you are claiming your child should be granted a place on medical grounds then you must expect to have to provide evidence from their GP that the child has a medical condition that means their admission to a specified school is essential.

Medical reasons can also cover Special Needs education or Child in Need as defined by the Children Act (1989).

Siblings – As discussed in our article The Sibling Factor, a child may be secured a place at their preferred school if they already have an older brother or sister in attendance and who will still be in attendance when the younger child begins schooling there.

This can include stepchildren or foster children living in the same household but does not include cousins or friends of family etc.

Associated Primary Schools – Each secondary school has a number of what are known as associated primary schools. Strong bonds are formed between these associated schools and the secondary school(s) and this is done to make the transition from primary to secondary school as easy as possible.

Preference will be given to pupils who are attending one of these associated primary schools.

Distance – Is perhaps one of the most important aspects of the criteria. The distance between the child's permanent residence and the preferred school is measured in a straight line or – as the crow flies. Those children living closest to the school will be the ones who will receive priority when allocating places.

However, there are exceptions to the rule where distance is concerned. Again it is worth discussing with your preferred school(s) and the local education authority.
Voluntary-aided secondary schools have their admissions criteria and admissions policies decided by the Governors of the school. Parents/carers who wish to express a preference for a voluntary-aided secondary school should check the ranking policy with the appropriate schools.
Independent schools control their own admissions and you will again need to have contacted them directly and in plenty of time to find out what to do next.
Likewise if you wish your child to be placed at a school in another local education authority it is advisable to contact them and ask about their procedures and also contact the school(s) in question to confirm their admissions criteria. Council websites are always a good place to start.
As we have already outlined the admissions process in general is the same from LEA to LEA but it is certainly worth checking to find out if there are any little quirks or things they do differently before beginning the process of selection for your child.
You might also like...