Relationship Between Child and Teacher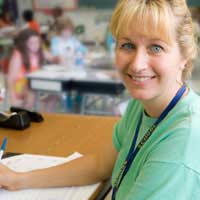 One of the most important factors to be taken into consideration whilst your child is in full-time education is the relationship they have with their teachers; indeed the relationship your child has with any adult within the confines of a school environment.
It is something that we as parents take for granted; the notion that our children can interact with adults with the same ease as they do with us as their parents. This does not always represent a true reflection of how the relationships between children and their teachers are and it is only right and proper that as parents we try to establish if your children are interacting with their teachers in a manner befitting of all concerned.
Whilst we would like to think that our children can communicate with their teachers and peers in the same was as they do with us it is not always the case and this can be because of shyness a withdrawn character or simply because they do not like their teachers.
The Importance of a Good Pupil-Teacher Relationship
It would be impossible for any teacher to say that every pupil they have ever taught has liked them but it is possible to do certain things as a teacher that will at least enable the children under their care to receive the standard of education required without having issues of personality.
Likewise not every teacher can say that they have liked every pupil they have taught but there is a certain level of respect that a child should show their teacher or indeed any adult.
The relationship between your child and their teachers should be one built on a mutual understanding and we as parents can help our children to understand that the teachers are for the benefit of their education and in matter of fact their future. Indeed teachers are also trained not only how to teach their particular subject but also how to deal with children but for the most part the teacher must have a personality or character, which is conducive to teaching children.
We all like to think that our children are above misbehaving but it has to be said that it does happen and therefore the teachers must be trained on how to react to this misbehaviour, how to deal with it and how not to allow it to overshadow the teaching of others.
It Works Both Ways
It is safe to say that the relationship between any child and teacher is a two way street and there must be give and take on both sides. It is also fair to say that how a child behaves at home in the presence of their parents also reflects on how they behave in the presence of other adults outside the confines of the family home.So it is important for us as parents to show our children that adults are nothing to be frightened of – certainly within a schooling environment – but are there to help them learn and to grow as individuals.
And likewise it is important for the teachers to make this known to the children under their care. It is important that they can portray an air of confidence in what they teach but maintain a level of attention that will make our children feel as though they are cared for and looked after during the hours they spend at school.
You might also like...
Hello I'm looking for in theatre for my child my child is do you own half years and it does thespeak and I'm looking to ditch himteacher I'm leaving Southgate close the train station I need five days a week the hours a day thank you my contact number is (07445) 253359 thank you
Mario
- 24-Sep-18 @ 9:47 PM
My son has Asperger's syndrome & now severe anxiety & school refusal. He was bullied for years by his LSA and is frightened of teachers as a result. We tried to report this at the time but what followed was the entire system turning on us, we had social services threaten to remove our children and after 4 years had to withdraw our son from school as we couldn't take anymore. He now has an SEN placement but because of all the secret professionals meetings behind our backs, our names are mud and we can't access any support for his anxiety. So he is not able to attend regularly and is at risk of losing his place. I have a life long illness and the stress is just killing me, we have no family life left because all we do is worry about the pressure we are under from school or the LEA. At his last annual review the LEA demanded it was brought forward meaning the school had to reschedule and my partner had to take another days holiday (for the last 4 years all his holidays have been used with welfare and school meetings he's exhausted) and they didn't even show up! Yet we hear they're saying to the school that this placement has to work as there's nothing else. It's his first placement, he's had no help and no counselling. CAMHS have refused to see him and I'm just left alone trying to cope. It seems hopeless and the teacher who bullied him was then given a 4 year old with Aspergers to care for after he left
SuzyBee
- 19-Jun-18 @ 9:29 AM
as a child care worker what are some nurturing practices I could use to maintain professional boundaries with the children?
jman
- 7-Sep-14 @ 9:49 PM