How To Set Up a PTA at Your Child's School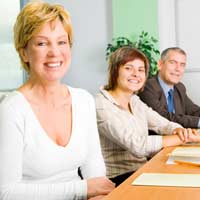 The first thing to know about setting up a PTA (Parent Teachers Association) is just how much good it will do in the long term. Such groups are useful for a variety of different reasons, no least the ability for parents and teachers to meet on common ground with the same common purpose - to provide a decent worthwhile standard of education for the children.
How Much Interest is There in a PTA?
This should be the first question you ask and indeed the first question you seek to answer if you intend to set up a PTA (Parent Teachers Association). In order for a PTA to work there has to be a significant level of interest on both the parts of the teachers and the parents alike. A small number of parents and teachers will function well as a PTA but the more people you can get involved the better.
The best way to find out how much interest there is would be to canvass the parents of the children in your child (or children's) school. A short questionnaire perhaps photocopied and sent home with the pupils' school reports would be a good way to gauge the level of interest. Your school's headmistress or headmaster should have no qualms about helping you establish interest as in the long term the more parents the school can bring on board the better it will be when it comes to pushing through new proposals regarding the pupils' education.
Starting a Steering Group
A steering group may sound as though it is something that belongs in a board room but the concept is a simple yet effective one. A number of parents and teachers form the steering group in order to help set up and run the PTA - giving it a sense of direction and purpose and also laying down the basic ground rules of the group. The steering group will also be responsible for the setting of targets for any fundraising that the PTA wishes to undertake. In essence a steering group is the equivalent of a Managing Director, a Company Secretary and a Company Accountant - each with individual yet important roles.
Producing a Constitution
This is something that the steering group need to do; the constitution is, as perhaps the name suggests, a series of guidelines laid down which indicate exactly the purposes and ideals of the PTA and how exactly the PTA plans to fulfil them.
This really isn't as difficult as it may sound and requires that all those involved think long and hard about the motives and goals of the PTA and also how activities like fundraising are carried out. Your school's headmistress or headmaster should be involved at this stage in order for the school's goals and the PTA's goals to function along parallel lines.
Financing the PTA
PTAs - like other committees - require some funding at some level if for no other reason than to cover the cost of production of literature etc. You should decide early on who is going to be responsible for the finances of the PTA and make it official. The PTA steering group should take a vote as to who is the best candidate for this particular job and it should also be made official by means of a properly set up bank account with the elected member's name put on the account as an authorised signatory. There should also be a second signatory in case of absence.
Make All Decisions Together
This is the most important aspect of any PTA, the ability to make decisions by means of a vote or committee. One of the most important parts of your PTA's constitution is the ability to call a vote and to stick to the outcome. All decisions should be made together and the outcome made common knowledge as soon as is possible.
Hold Regular Meetings
Your PTA should meet as regularly as possible although it can be difficult sometimes given the work and lifestyle commitments of all those involved. Where possible pick the same date each time for your PTA meeting and give as much warning as you can to all those who normally attend. Avoid weekends where possible as these are always difficult times to get everyone together - a mid week night is probably best and the ability to hold the meeting in the same place each time is also a bonus.
For more information on setting up your own PTA you should first speak to the headmistress or headmaster of the school in question. Find out if there is a PTA group already in existence and if not ask as to how best to set one up using the resources and time your child's school has to offer.
You might also like...
Is a pta group allowed to be a profitable organisation???
me and afew parents from my daughters school was thinking of setting up a PTA as the school never does any fun activites with the children they miss out on christmas discos, world book day, easter and the year 6 leavers dont even get a party, they neverhave non uniform days.
Cazzy87
- 8-Mar-13 @ 10:55 AM
Great article on where to start when you want to set up a school PTA. The key to sustaining a thriving PTA is to spread the workload so it does not become too onerous for the core group of organisers. It also means that more parents can get involved and feel a sense of ownership and pride in playing a part in bettering their child's school experience.
PTAsocial
- 7-Nov-12 @ 12:59 PM