Choosing a School That Isn't Close to Home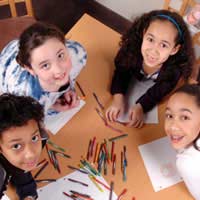 It can be very tempting to choose a school outside your neighbourhood because it has excellent exam results or a great Ofsted report.
And quite often, parents send their child to a school which is close to their workplace because it has a good reputation and it's simpler to drop them off and collect them at the end of the day.
But there are a number of drawbacks to sending your child to a school that isn't in your neighbourhood.
Distant Friends
One of the most obvious of these is that their best friends are likely to live some distance away so they can't simply go out to play after school. Instead, you have to be prepared to collect them from a friend's house after tea.
If they are older and not happy about still needing to be "collected" from a friend's house, they might need to catch one - or even two - buses home at the end of the night.
Parents who choose a school close to work also need to think about the difficulties if they lose or change their job in the next few years. What would happen about the school run if this happened?
Would you still be prepared to have a 10-mile round trip for school or would it mean moving your child from a school where they were now settled?
Of course, using a school close to your workplace obviously has its advantages when everything is running smoothly. Crucially, it usually means you can leave home earlier than you could do if your child was schooled locally.
School Clubs
Some parents, however, get over an early work start or late finish by sending their child to a breakfast or after-school club. These are becoming more and more common and often mean that you can drop off your child as early as 7.45am in order to get to work on time.
This would allow you to use a local school after all and would also avoid your child spending up to an hour and a half in the car every day!
Some parents feel they have little choice but to use a school close to work because their neighbourhood school is over-subscribed or has a poor reputation.
If that's the case, then you may well feel that the difficulties involved make it worthwhile sending your child to a school a few miles away but you would obviously need to have contingency plans for emergencies.
Illness
One of the main difficulties you could face is absence from work. Most working parents know that they need a safety net in case their child is off school due to illness.
Often, they have a relative or friend who would be able to look after the child during illness – or if the school is closed due to bad weather or illness.
But if you had an accident or long illness and were off work, how would your child get to a distant school?
If they attended a local school, you would probably be able to rely on another parent to take your child to school with their own and drop them back off at night.
So before making any decisions, you need to weigh up the factors for and against based on your own circumstances.
You might also like...