Making Donations to the School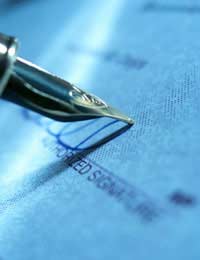 As we all know there are times when a school can struggle with equipment or the ability to afford additional staff so it is only fair that we as parents can make a donation to assist the school in the procurement of these items should we feel we would like to.
There is nothing in the law that says a parent or group of parents cannot do this and indeed provision has been made from a tax point of view to ensure that a school can benefit from the making of a donation or 'gift' as it can be referred to.
Of course in saying this it is not always possible for a parent or parents to give large donations so any amount is acceptable and most schools can provide you with details of how to make a donation on request.
Some parents wish to make a donation over a period of years in which case both they are the school can benefit from completing a Gift Aid Declaration.
Gift Aid Declaration – This is where the school can recover more than 28% of additional tax it might normally pay against donations. Payment of an annual donation – for example – could be made monthly quarterly, half-yearly or even annually if the individuals donating prefer.
Most schools can allow for a standing order to be set up whereby monies are sent from the account of the individual donating directly into the school's account on a designated date. A single donation or 'gift' is also liable under the Gift Aid Declaration.
A higher rate taxpayer can reclaim the difference between the basic rate of tax a school is allowed to recover and the higher rate of tax you as a higher rate taxpayer would pay. This reduces the cost to the higher rate taxpayer by over 20%. An example of this would be if an individual donated £1,000 then the school would receive a total of £1,282 and the cost to the individual paying a higher rate of tax would be £769.
Shares - United Kingdom taxpayers can also donate shares to a school if they so wish. This is a very efficient method of donating, reducing both Capital Gains Tax and Income Tax for the higher rate taxpayer. A school can provide you with details of this should it be something they can benefit from.
Legacies – A legacy is something that you can leave to a school in your will to be executed at the time of your death. Basically you can leave a donation in your will to be given to the school on the execution of your will, or you can leave property that could be sold or land that the school might be able to use at some time in the future.
It will not cost you anything while you are alive and may reduce your liability to tax, and or death duty. Of course you should consult a solicitor and the school itself before making any such requests.
Alternatively, as it may not always be feasible to use any of the above methods, most schools will operate some sort of system whereby you can donate however much you can afford in an informal way. Regardless of whether it is £1 or £1,000 a school – perhaps your child's – or a school you once attended yourself, will benefit greatly.
You might also like...