Getting an Academic Place at a State Secondary School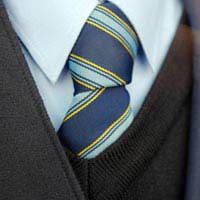 Parents who are dissatisfied with the quality of the state secondary schools in their area sometimes resort to a variety of tactics to get their child into what they perceive to be a better school.
Some parents move house to get into a different catchment area, others try to get their child into a school outside their catchment area on the basis of performance skills, as well as musical or academic ability.
If you believe your child could qualify for an academic place, it's always worth a try. You might also want to try getting your child into a grammar school, but make sure that he or she is well suited to a highly academic environment before you try.
Getting an Academic Place
Most non-selective state schools, or comprehensives, accept a certain number of pupils from outside the catchment area who show exceptional academic promise. To qualify for one of these places, your child will have to take a written examination.
The competition for these places is fierce. At most schools, a finite number of pupils are accepted – say, 25 in total. The top scoring 25 pupils will be offered a place; if someone does not accept a place, the next top scoring pupils will be offered one, and so on and so on, until all places are filled.
Often, there are several hundred pupils – at least – applying for these places. So your child will have to be quite academically gifted in order to get one of these places. They will probably have a one in ten chance, or less, of getting a place.
To qualify, you will need to fill out the Common Application Form – available through your local authority – and also fill out a supplementary application form. Make sure you look at the school's sites online to see when the deadlines are, and don't miss any of them!
You are also well-advised to get a tutor to help your child do the best he or she can on the exams. Even if your child knows all the material backwards and forwards, several sessions with an experienced tutor will help master the skills of taking these type of exams, which can be crucial to getting a place.
Getting a Place in a Grammar School
The other option is for your child to compete for a place at a selective state school that chooses children on the basis of academics, what is known as a grammar school.
Statistically, your child will have a greater chance of getting into a grammar school than they would getting an academic place at a comprehensive. According to some estimates, the top 10 percent of children in the catchment area, based on academic ability, will be offered a place in a grammar school.
Some grammar schools still offer the 11-plus entrance exam to get in, which consists of two tests that are administered in October. Others have their own exams. You will still need to fill out the Common Application Form through your local authority.
Keep in mind that some schools will accept children who live outside the catchment area if they make the grade; others will not even if they are the top-scoring pupil who applies. You will have to look online or consult with the school admissions office to see if you qualify to apply.
Do Your Homework
If your child is highly academic, it can be well worth trying to get them an academic place at a good secondary school, or to get them into a grammar school where they would thrive in such an environment.
Plan ahead to prepare your child accordingly, and be aware of the hurdles they will need to jump over in order to get a place. Only about a third of pupils who take the 11-plus get into grammar school, and the number who get an academic place at a comprehensive is even fewer. So don't be disappointed!
You might also like...
Hello, I rang the Hampshire School Admissions Team (where I live) and they said that no Hampshire comprehensives offer academic places. Does this sound right, or should I enquire again with them and/or directly with the schools? (They moved seamlessly from my question to talking about 'selective schools', of which there are none in Hampshire, so may not realise the difference.) Do you know about Hampshire academic places? Thanks, A.
could you pleasetell how can i study there
handsome
- 31-Jul-15 @ 3:48 AM