How the Recession is Affecting School Places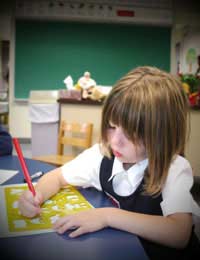 The recession is affecting people in hundreds of ways, not the least of which is their spending habits when it comes to education.
Many parents are finding that their child's education is not as easy to plan as they initially thought it would be, while others are unexpectedly discovering ways to afford schools they thought would be out of their reach.
Still others are discovering that the state school they had counted on is now full, and that their children must make do with their second choice - or even their third or fourth one.
State Schools
Many parents who were counting on giving their children a private education are now sending their offspring to state schools, as they can no longer afford to dig that deep into their pockets. That has caused a knock-on effect for people who had always intended to take the state route. The influx of children who had initially intended to go private into the state sector means that some children are not being allocated places in their local state schools – even siblings in schools which have a sibling policy.
In the London borough of Wandsworth, for example, less than half of children applying for state secondary schools got their first choice this academic year, which is mainly due to local places being filled by children whose parents can no longer afford to go private.
And in Birmingham, grammar schools have seen a sharp increase in the number of applicants, as recession-affected parents are beginning to seek a good state education for their children over a pricey private one. It's a sea change that is happening throughout the country, and one that is expected to continue for at least as long as the downturn in the economy does.
Private Schools
Conversely, some parents who thought that private education was out of their children's reach are now sending their kids to independent schools, which have seen a drop in numbers and are offering financial incentives to make their schools more affordable. Many independent schools are offering reduced rates for children as well as other financial enticements, and are keeping their tuition fee raises deliberately low. Some school have begun to actively chase parents for unpaid fees, and some have had to close.
In fact, the Independent Schools Council has released official financial advice for cash-strapped parents affected by the recession, telling them to put aside any potential embarrassment and investigate bursary schemes at their children's schools.
Future Outlook
Experts think the situation concerning primary and secondary education only going to get worse, although a rise in the number of pupils filing places from abroad has helped. In fact, there has been a 7.4 per cent increase in the number of foreign pupils at independent schools, according to figures released in April.
And when it comes to state schools, it is thought that new academies could help relieve at least part of the pressure, making new school places available for local children everywhere, not only in disadvantaged areas.
In the meantime, parents who are worrying about how they can afford to pay for their children's education, or which state school they will eventually end up in, should take heart.
Education pundits have said that the recession is the optimal time to focus on improving the schools we already have, and making them better. If that happens, parents can be happy with whatever school they are allocated, and stop worrying. But will it? Don't hold your breath…
You might also like...