Theatre Schools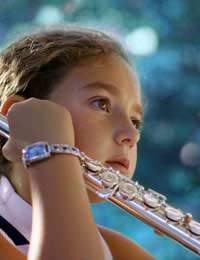 Theatre schools are schools that offer your child the opportunity to learn and be taught in a variety of forms of subjects that come under the umbrella of 'Performing Arts'.
There are many theatre schools in the United Kingdom offering tuition in music dance, acting, singing, ballet and other subjects, which are combined – or can be combined– with subjects falling under the National Curriculum.
How Theatre Schools Work
Some theatre schools operate on the basis of weekend study – normally Saturdays – whilst others operate during the summer holidays. In addition, as already mentioned a lot of theatre schools offer full time tuition and supplement this with the National Curriculum studies as well as vocational studies.
Vocational studies encompass:
Drama: Voice production and projection, speech, working with scripts.
Music: Singing, vocal technique, Microphone technique.
Dance: Ballet, Tap, Jazz, Contemporary dance.
All of the above are taught and include comprehensive teaching of subjects carried by the GCSE syllabus.
Gaining a Place
If you wish your child to attend a theatre school they must carry out a formal interview and also audition in their chosen subject be it drama, dance, music etc. In addition to this you must also supply the theatre school with reports from your child's current school and carry out written and verbal assessments. In some instances, depending on the number of places available, your child may be called back for a second audition to assess their abilities in relation to other children vying for a limited number of placements.
It is also worth noting that most theatre schools have a fee-paying system and these fees are normally paid by term – but in some instances can be paid half yearly or annually but this is at the discretion of the school to which your child is applying.
In some instances your child may be able to apply for a scholarship – or subsidising of fees by the school or private body – but the number of scholarships is limited greatly and competition for them is fierce. In addition Local Education Authorities are not obliged to give any assistance financially as theatre schools are seen as being separate from the mainstream schooling system in the United Kingdom.
Again in trying to place your child at a theatre school it is worth discussing it thoroughly with your child. Some schools operate on a boarding only basis and it is important to know that your child would be happy to spend long periods of time away from their families and friends in a location that would otherwise unfamiliar to them.Theatre schools try and make children feel as welcome as possible and for the most part there is always a matron on duty to offer advice and support to children but as is the case in some instances children can feel alone and segregated and this can lead to health issues.
It may sound like a great opportunity for your child to receive a place at a theatre school but it has to be something that both they – and you – are one hundred per cent happy with. In the main competition for places is fierce and should your child be allocated a place there will be a lot of time invested in them from the theatre school's point of view – and a lot of money invested from yours.
You might also like...
We are a family with 2 girls aged 12 and 14. We shifted to London, UK in just 3 weeks in August last year-2015. We chose Barnet for its schools based on good Ofsted reports. Both girls are in Secondary schools (yr 7 and Yr 9) Both girls are musically inclined having studied music at the Gregorian Institute of Music in Lisbon. They both want to pursue in the areas of art and will be taking Music for their GCSE and continue it further. As a parent I am worried and confused as their present school does not offer Music as a subject for GCSE As both girls want to pursue their interest in music (elder girl wants to study piano whereas my second daughter theatre arts. I need to find a school in the north of barnet where music, drama and dance are integrated with the National Curriculum. Would appreciate if I could get some guidance how to go about this as I am so new to the system and I may even be late to put in the applications. BOTH girls are academically focused on Maths and Science as well. As we cannot afford to send the girks to private schools sincerely appreciate if you could suggest a musically oriented secondary school .Awaiting a response at your earliest Thank you Ishu Sobhraj(mother)
Ishu
- 28-Mar-16 @ 4:01 PM