Be Prepared with a Second Choice School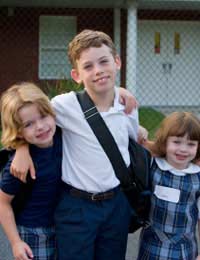 We have already discussed the whys and wherefores of viewing your chosen school at which you would like your child or children to be educated. And as we have already discussed, it is an important decision to make because they will spend a number of years there.
But in addition to that we have to consider the possibility that the school you have chosen may not have a place to make available to your child.
Sadly this is all too common a reality and can come about by changes in local authority rules and regulations or, quite simply, because the waiting list for the schools in a particular catchment area are long.
It is commonplace now for parents to try and secure school places for their children way in advance of them reaching school age. We must also take into account the sibling factor - which we discuss in a separate section. And as previously discussed we must take into consideration those factors which may have a bearing on admittance to a particular school which may or may not include factors of distance, ability, etc.
With these factors taken into consideration it is always wise to have a back-up plan.
Choosing an Alternative School
Your back-up plan should realistically contain two, alternatives to your original choice. They will obviously follow along similar lines to your first choice but for whatever reason have fallen just short of the final decision you made.
If a local authority is unable - for whatever reason - to provide admittance to your initial school of choice, they can offer you an alternative. But it is in your best interests, and obviously that of your child, to supply them with the information to make their decision easier if at all possible.
When you are filling out the school appication form either online or paper form, you will have the chance to list three schools - one being your preferred choice and the other two being your alternative choices.
Before doing this however it is necessary to carry out the same duties as with your first choice school.
Make appointments with the head teachers and take advantage of open days and visit the schools you have short listed. Speak to local parents whose children attend your alternative choices and check with the local authority as to how these schools perform in relation to the initial choice. If at all possible speak to some of the children attending these schools, your child or children will undoubtedly know some of them, so ask them informal and non threatening questions as to how they like it and how the teachers are with them? These may sound like simple things but they are necessary and will make your short list selection process all the easier.
Also use the Internet as the tool it is and search for schools in your area. Most schools now have websites so have a look at them and download the prospectus and supplementary application forms if they are required.
It is safe to say that using the same procedure as you did for making your first choice will prove just as beneficial for your alternatives, and in having these alternatives you are ensuring that - should you be informed of the local authority being unable to place your child at the school of your choice - the whole process remains as hassle and stress free as possible.
In addition it is worth discussing it with your child or children that the school you have chosen - and indeed the school they might most want to attend - may not be able to take them. A lot of children like to attend the same school as their friends, which is fine if there are places available, but in nine out of ten cases, if a school is popular then the number of places is greatly limited. So it is worth cushioning the blow from the outset and explaining the situation to them so that they too are prepared for a disappointment and can deal with it alongside you.
All in all, although many parents are lucky enough to have their children placed at the school of their choice, it is sometimes the exception to the rule which can be hardest to deal with.
But by following the above listed steps it should be more than possible to minimise misery and stress and make the selection process all the easier to contend with.
You might also like...