How to Choose the Right School for Your Child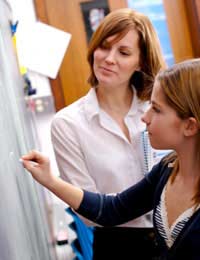 If asked how to go about choosing the right school for your child what would you say?
It's a question that you should be asking yourself if your child is of schooling age, or is already in school and making the move from primary to secondary. And in asking the question it will throw up a myriad of additional questions that together can make for something of a mine field if you are doing it for the first time.
The first question to ask is: what sort of school did I attend and was it right for me? It may sound contrived but looking back at your own schooling can lead you to make some informed decisions. After all if you went to a school that was under funded or under resourced you wouldn't realistically expect your child to go there would you?
Most of us have been out of the schooling arena for some time and things have changed quite a lot so it is only reasonable to expect that nothing is necessarily as it was when you were at school. So make a checklist with your partner and work down that list to make an informed choice.
Also don't just pick one school. In your area alone there may be 3, 4 or 5 schools that would be suitable for your child, so it is only right that you take the time to inspect them all, and judge them on their individual merits. Just because you like the look of one primary or secondary school doesn't mean that all of the others in your catchment area are the same.
School Visits
Visit the schools if you can. Use the opportunities presented by school open days to see what the school has to offer, or if you prefer, make an appointment yourself and take the time to tour the school with a senior teacher or head teacher who should be more than happy to answer all of your questions and show you parts of the school that open days might not allow.
Talk to your child as they will almost certainly know children who attend the schools on your list. Find out from them what their friends think or ask their friends directly. You would be surprised at just how unbiased and informative children can be about their schooling.
Ask about the facilities and after school activities the schools have to offer. Remember that school is not only a place of learning but also a place where your child will learn the rudimentary skills of communication and how to mix with others.
Speak to your local authority and ask about league tables and exam results, you can tell a lot from the league tables and exam results as to how well a school performs.
If necessary make a shortlist of schools that you think may fit the bill and ask to visit them again. Sometimes a second look can throw up things that you may have missed first time round or that just didn't spark your interest at the time. Most schools will be happy to do this. Not only does it show you have your child's well being at heart, but it also allows you to familiarise yourself with the staff along the way.
Make notes - and lots of them - don't be afraid to ask your guide to repeat some information you may think relevant. After all you only have a certain amount of time to tour the school.
Observe how the teachers and pupils interact if you can and if you can manage to coincide your visit with the end of the school day don't be afraid to speak to parents who have come to collect their children. If you explain your reasons for asking them questions they will be more than happy to help. After all they will have been through the same process themselves at some stage.
And finally, and perhaps most important of all, take on board your child's comments and opinions. After all it is they who will be spending most of their time at school. If it looks right and feels right, then it more than likely will be, but if your child isn't going to be happy there then the whole process can only end in tears.
In conclusion, finding the right school for your child is one of the most important tasks you as a parent will perform during their formative years. If you make the right choice and use your checklist then you will find your child will be happy, content and flourish in the pursuit of knowledge, which is one of the greatest gifts you as a parent will ever receive.
You might also like...
Lots of good tips here. Get as much information as you can about the school as possible. Trust your gut feeling. Look at the website of the school and arrange a time to view the place. Take your child with you and ask for a tour of the whole school. Read behind the lines. Interview shopkeepers about their opinion of the school. Ask to take a look at the toilets at the school. Find out everything you need to know. Download newsletters from the website- they contain useful details. Examples of questions to ask include: "What is the curriculum like"? "How is achievement celebrated"? "What about goals"? "Can I see a copy of your policies"? Request a copy of the school prospectus. "Are the children happy here"? "May I see some work"? Can you tell me about staff turnover"? Chat to the children at the school. Ask them to name five good and five bad things about their school. Also speak with the office staff briefly. Meet the principal as well. Talk to the teachers and other parents.
Leah
- 7-Jul-19 @ 7:50 PM
hello, Thanks for your great work. We have just moved our 2 daughters to a new school near our new home. Initially we researched on the school and the Ofsted report which was satisfactory. But speaking to someone yesterday, she advised that we check and compare the progress of the school. when we check the progress performance rating, it was really poor. rated just 1 star and ranked 12000 out of possible 14000 primary schools on the list.(Slade primary school B23) Not sure what criteria being used, but read online it was introduced in 2016. what do you advice please. My Mrs is about returning them back to the former school(St Francis B19). St Francis Ofted rating (Good),Ranking (1586/14670) Rating 5 Star. Slade Primary School (Good), Ranking 11986/14670) Rating 1 star
kingmk
- 24-Oct-18 @ 11:59 AM
Hi my name is a zainab cabdi I am 14 yrs old I am class 6 I am still primary schooland I have passion to work.i just want to help my family because my family belongs poor by the way my nationality is Somalia I know all people saw and also heard news about Somalia. I am refugee and I don't any country .and also I am HIV AIDS. Ihave short life I justwant to study and work there premently Stay London
Qalanjo
- 13-Aug-18 @ 9:20 PM
teacher - Your Question:
Hi, I am Science teacher and I have moved to the Uk recently to teach. I have a son who will come to the Uk in August/ September depending on the visa process. Many schools in my neighbourhood dont have places for Year 9, how should I go about the admissions process?Thanks, Gita
---
Our Response:
Please see the gov.uk link
here
. If you have already accessed this, then you would have to leave the matter in the hands of your LA if you wish your child to be state-schooled.
GetTheRightSchool
- 21-Jun-18 @ 10:53 AM
Hi, I am Science teacher and I have moved to the Uk recently to teach. I have a son who will come to the Uk in August/ September depending on the visa process. Many schools in my neighbourhood dont have places for Year 9, how should I go about the admissions process? Thanks, Gita
teacher
- 20-Jun-18 @ 1:22 PM
I would like to receive an information about my daughter whom is 15 at the present. She is attending to a mainstream school but I am not happy with a school outcome. I do not believe that my daughter should be placed in the current school where all the pupils have strong disabilities than my daughter. I want to change her school to the nearest one where I and my other two children are residing at this moment. Could you please direct me to apply for the right school for my daughter whom has learning difficulties rather than physical disabilities. Can I send her to state school instead of mainstream? Awaiting your responses at your disposal.
BUSE
- 10-Oct-17 @ 12:24 PM