Handling Separation Anxiety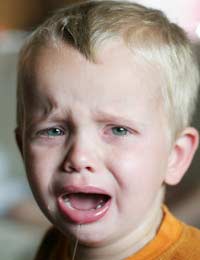 Separation anxiety is defined as 'a distress reaction to the absence of the parent or caregiver'. It is actually a natural part of a child's development and shows that they are advancing normally, and should not be treated as a behavioural problem. Often it starts when the child is as young as a year old, but it can become more apparent when a child first starts school or nursery.
The fact is that a child is trying to understand the situation that is happening, when they are being separated from their parent or carer, and when they cannot, their feelings turn to fear.
The fear is that the adult is not going to return and that the child is being abandoned. Of course, it can be extremely distressing, not just for the child, but for the adult too, when the separation anxiety shows itself, particularly as tears and clinging behaviour. It may seem little consolation that a child will naturally grow out of this fear, but you can help to lessen its severity until the child learns to understand the reality of the situation, and know that the separation is only temporary and will be over at the end of the school day.
What are the Symptoms of Separation Anxiety?
Strangely enough, children show separation anxiety in a number of ways, and not necessarily by crying at the moment of separation. Many children, of course, will be tearful and distressed when they are being left by their parent or guardian at the start of the school day. This is a situation that teachers are extremely experienced in dealing with, and often encourage parents to make the separation as quickly as possible, and not delay their leaving in the hope that their child will calm down. To be honest, children's tears often last for a very short time once they are inside the class, and being cared for by the teachers. No, it's not that they have forgotten about you, but they have been distracted by everything else that is going on, and by the skill and experience of the teachers. Unlike you, they are probably tear-free within a few minutes of your leaving!
Other children appear to show no signs of separation anxiety at the moment of separation, but are extremely distressed when they are reunited with you. This is more a sense of relief that you have come back for them at the end of the day, but is still related to their fear of separation.
How to Reassure Your Child
However the separation anxiety manifests itself, it is important to reassure your child that the separation is only temporary. You will see your child at the end of the school day, and are not going to leave them for good. That may sound a little drastic, but it is often the main fear that a child has. If possible, you should have trial periods of separation from your child before they actually start school or nursery. These needn't be long, but allow your child to start to get used to the idea that you needn't always be around, but still love them and will be there later.
Friends and family can help by looking after your child while you, for example, go shopping or attend appointments. Talk to your child about what is going to happen, in a matter of fact way, and then go through with what you have told them. Saying quick 'goodbye's' is often hard to begin with, particularly if the child is visibly upset, but is often the best course of action. Of course, when you return to pick your child up, you can then be excited to see them and keen to talk about what you have both done while you have been apart.
This period in your child's development will pass, and it won't be long before they can't wait for you to drop them off and leave them with their friends!
You might also like...