Coping With First Day Nerves and Tears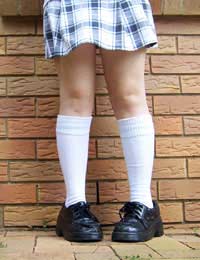 The first day of school can be heart-wrenching for a child, as well as for their parent or guardian. Of course, there is a lot of excitement surrounding the big event, for the child, but many parents find it traumatic. There is no guaranteed method for eliminating all nerves and tears; however you can work to lessen the impact on both of you as much as possible. The key to this is advanced planning.
Ready to Start School
Some children are completely ready to start 'big school' – in fact, many can't wait to get there. The idea of learning new things, meeting new friends, and simply being more grown up is enough to make a lot of children's first day free from nerves and tears. This seems to be more the case with children who have previously been to a nursery school and will therefore be moving into their new school with children they already know and are comfortable with.
Another factor that seems to make the transition easier is older siblings. Children who have big brothers or sisters who are already at school want to be like them and are almost impatient to be wearing the same uniform, and doing everything that they do. If you are lucky enough to be in this situation, then the only nerves and tears may well be your own! The thought of your youngest child going to school may fill you with mixed emotions, and will likely leave you with a feeling of, "What do I do now?" It is important for you to plan how you are going to spend the first day, and not end up wondering how your little one is getting on. Enjoy the opportunity to do those things that you have not had chance to do while looking after your child. It needn't mean performing a huge house cleaning session, but could be the chance to relax, or meet other Mum's for a coffee.
Preparing for the First Day
Whatever you choose to do, it is essential that you do not convey any feelings to your child that will have a negative effect on their first day. Parents often underestimate how easily children pick up on their moods. If you are worried, they will be too. So, how can you help alleviate potential problems? Planning is extremely important, and you can involve the child in this too. One of the most common causes of first day nerves is the fear of the unknown; this can be the intimidation of not knowing any other children, new teachers, a new place, new routine or other similar concerns. All of these can be addressed, and should be wherever possible, before the first day arrives, so that the child is not confronted by all of them at once.
Try to find ways for your child to meet and socialise with other children that will be starting school on the same day. Obviously, this is easier if they have been to a nursery or playgroup, but there are other ways that you can help. You can meet other parents at school introduction evenings, and suggest getting the children together, or talk to the school about any parent and child groups that they know other future pupils attend. Even if your child meets only one or two children ahead of the big day, that will help.Visiting the school and meeting your child's teachers will let your child become familiar with their new environment. If possible, taking photographs of your child with the staff is helpful as you can keep referring to them in the build up to the start of term. Find out what a typical day is going to involve so that you can discuss that with your child, and be enthusiastic about the exciting new things they will experience.
Buying uniform and other school essentials may not seem the most exciting of activities for a parent, but you can turn it into a positive experience for your child. Get them as involved as you can in choosing the items so that they are familiar with them, and also have things that they like. This may be restricted by school regulations, but you can still keep telling them how good they look in their new uniform, and boost their confidence.
Finally, introducing the new school day routine ahead of time is crucial. This includes fixing bedtimes and wake-up times, as well as making a couple of dummy runs to and from the school. If you follow these simple tips, then the first day at school should run as smoothly as possible, and you might avoid any excessive nerves or tears – at least from your child!
You might also like...