Helping Your Child to Make Friends at School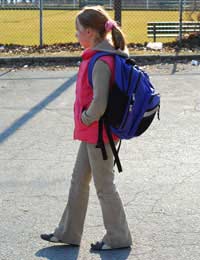 Most parents and educational experts would say that social skills are just as important to learn at school and just as crucial for your child's future happiness and success as 'traditional' academic subjects. So it's a good idea to consider, in advance of your child's attendance of school, about how you can help your child to make friends at school. Apart from any long-term benefits, it will help your child to settle into school and be much happier there too.
Start Early
As soon as you receive a list of the members of your child's new school class, organise play dates for your younger child, or encourage your older child to get to know new classmates via befriending on popular websites like Facebook, MSN and MySpace, swapping contact details and meeting up. The sooner you start, the sooner they can start getting to know soon to be classmates, and then start to make friends in less formal environments such as at home, or on visits or outings together, before being thrust together with far more kids, all at the same time, on the first day of school.
Help Your Child By Meeting Other Parents
This is age-dependent - your 15-year-old teenager probably won't want to meet up with the kid of someone you met for coffee - but if your child is younger, joining a parents' network like a PTA can help you to meet a network of acquaintances that could in turn become close friends. You will immediately have something in common with the other PTA members - the same interests in your children's education, its funding, school activities, and so on, and may be able to organise community events that your child can join and find other kids to befriend.
Throw A Pre-School Party
Again this can help your child to get into the right frame of mind for meeting new people before the formal atmosphere of school, and get used to skills like informal conversation-making, getting to know other people and social conventions.
Help Your Child to Develop Good Inter Personal Qualities
Friendships don't happen automatically and depend on random concepts such as mutual characteristics, interests and so on. But helping your son or daughter to know about good behaviour and nice ways to treat people will encourage other kids to be their friend. Don't directly 'school' your child in personal skills, but give him or her books or watch TV shows that offer themes of good and bad friendships in a variety of ways, to help your child to absorb messages on how to be a good friend. And be good examples as parents too!
Talk Through Potential Situations
Help your child to address any fears or concerns about making new school friends by discussing potential issues in advance. This should include practical concerns like ways to deal with particular situations, such as who to sit with on the bus, how to deal with lunch time, and how to remember all those names, as well as emotional tips - like everyone will be in the same boat.
You might also like...