How Pre-schools Help Children Prepare for 'Real' School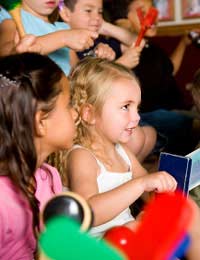 Pre-schools help provide a good early learning environment for young children, but they can also serve an additional purpose too – to help prepare children for moving up to 'real' school.
Pre-school early childhood education and learning environments take children from the ages of three to five years old. This includes nurseries, playgroups, children's centres and even approved and registered childminders. All children within the pre-school age group are recommended to attend some form of pre-school session and are entitled to 12.5 hours a week free of charge. With so many different options of pre-school early years education available, you should be able to find something that suits both you and your child.
Pre-school education plays a valuable role in helping children develop and learn new skills, both of a physical, mental and emotional nature. Children take part in a range of different activities, including structured and free choice play, PE-type activities, basic writing, sharing stories, singing, cookery and reading.
Due to all the different activities children take part in, they have a positive, as well as a practical effect, in helping prepare children for the education that lies ahead, when they start primary schools on a full-time basis. Mixing with other children regularly helps children develop essential social skills, especially playing and sharing with others, plus learning to make friends - and make up with friends when they fall out!
It may also be the first time your child experiences attending something on a regular basis on their own, where you don't stay for the whole of the session. As they will soon have to go to school and stay there on their own, this can help prepare them for the reality of what's to come, or at least make it slightly less stressful when they realise mum can't stay at school with them all day.
Pre-school Reception Classes
Some primary school reception classes in England also take four year olds for early childhood education and this can have benefits too. It's an early introduction to being in a classroom environment, with a structured learning pattern, and although they may not be there for the whole day, it does help get them used to what school will be like.
It's especially useful if your child is attending as a pre-schooler in the school they'll eventually attend when they're aged five. By the time they come to go to school properly, they'll hopefully not be averse to the idea, as they'll know what it's like, who the teachers are and have an idea about the format of the school day.
It's always a big step for a child to have to move from the comfort of their pre-school days to school, especially when they realise that you have to go all day, and not just for a few hours at a time. But it's at least helpful for parents to know that pre-schools can go some way to easing children through the transition and providing them with useful skills and learning that will give them a good foundation for life.
You might also like...
To who it may concern I would to get advise on putting my kids into school. My kids are 3 and 5 years of age. I also like to know what it would cost to put them into school. Please assist
Mansoor
- 15-May-16 @ 9:36 AM