Reception Classes that Take Pre-schoolers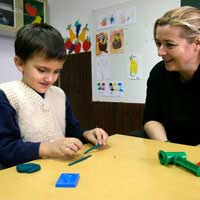 Some reception classes at primary schools now take pre-schoolers too. Here's some insight into why they do this and the potential advantages for you and your child.
Pre-school education and learning used to be exclusive to nurseries, playgroups, childminders, children's centres and special pre-schools. But now a selection of primary schools in England are able to take pre-school aged children in their reception classes. This applies to children who are aged at least four years old.
All children aged from three to five years old are recommended to be enrolled in some form of pre-school learning and education, not least as they're entitled to 12.5 hours a week free of charge.
The government have a foundation stage scheme which sets out the types of tasks that children should be encouraged to learn and do and it has the ultimate aim of helping to prepare them for a more formal education experience when they reach the age of five years old.
The types of skills they're encouraged to gain, which would be taught to pre-schoolers attending reception classes, include learning to write their own names and use capital letters, learning to count to 10 and learning to use full stops when they're writing.
Pros and Cons of Pre-Schoolers Attending Reception Classes
If your child seems confident and able to cope with being in a reception class, with slightly older children, it can work out as a good choice. It's also useful if you're intending on sending your child to that particular school, as they'll be introduced to the format at any early stage and by the time they progress to being there full-time aged five, it may come as slightly less of a shock.
But like many areas of life, there are some possible downsides too. It is worth bearing in mind that some people are concerned that children aged four are perhaps a bit too young to go into a reception class. The main concern is that they're exposed to formal learning environments too soon, whereas other children are enjoying a more relaxed environment in nursery or playschool.
By law reception classes aren't allowed to have more than 30 children in them, but often there's only one qualified teacher and one classroom assistant and the pre-schoolers have to be taught alongside the children at the school and in that class. So they may not get quite as much one-to-one attention as they might in other early learning environments and not all children adapt to this well.
There's also the consideration that reception class children are expected to all learn at the same pace, but with younger children on board, this doesn't always happen. If children aren't yet able to keep up with the learning pace and are slower than the others, it may be detrimental to their self-esteem and make them feel bad about themselves. When there's already so much pressure on young children to meet standards of education, at a young age it seems a shame to put even more pressure on them.
Whatever your views of reception classes that take pre-schoolers, the main thing is that both you and your child are happy with the decision you make and that, if they go into a reception class at the age of four, they get the best start and educational foundation they deserve.
You might also like...