Finding the Perfect Pre-school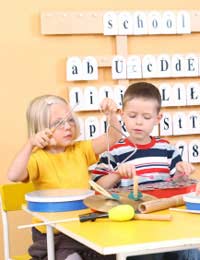 Every parent wants their child to be happy at pre-school, but how do you go about finding the right pre-school environment for your child?
Children aged between three and five years old are eligible to attend pre-school or other early learning classes or sessions. As well as reception classes at schools that have special pre-school sessions for children, other early learning and educational experiences can be gained from playgroups, nurseries, children's centres and even from approved and registered childminders.
The pre-schools that are run at and by schools usually take pre-school age children for either morning or afternoon sessions. They offer a structured learning environment that's designed especially for pre-school age children, with plenty of play mixed in with learning essential physical, mental and emotional skills. If your child is going to attend the pre-school before moving up to join the main school, then it can help provide a good introduction to the school and be less of a shock when they have to attend full-time, aged five.
The hunt to find the perfect pre-school isn't always easy and, depending on the area, there could be a lot of competition for a small number of places. When you're first sussing out potential pre-schools for your child, there's a lot to think about and research. In fact, it's a good idea to start your research and investigations in advance, so you can thoroughly assess what the different options in your area each offer and which would be best for your child.
What to Look For When Researching Pre-Schools
One of the key issues you may well need to take into consideration is the location of the pre-schools. Depending on whether or not you have a car, if you're working or if you've got other younger or older children to consider to, it may not be practical to travel too far to reach a pre-school, even if it sounds perfect. So for practical reasons, the location has to be considered from the start.
It's also important to assess whether or not you wish your child to move on to main school, aged five, at the same school where he'll be at pre-school. There are definite benefits of doing this, as from your child's point of view it may be less disruptive than having to go elsewhere. But if the school you'd eventually like him to go to doesn't have a pre-school, then it will be necessary to go elsewhere.
It's helpful to go and see the pre-schools you're interested in, in action – when children are there. It's helpful to see them in the pre-school environment so you can see what they're up to, how happy they are, if they play well together and how the staff get on with and handle the children. If you don't feel happy with any of these elements, then it may not be the right location for your child.
Other issues to consider is how much space the pre-school has, what activities they do, how they structure the learning day and whether or not there's indoor and outdoor play areas. The pre-schools you're researching may not offer all of these factors, and may differ between themselves, but it's a case of weighing up the pros and cons of which seems best for your child.
In essence, they may not be an ultimate perfect pre-school that ticks all your boxes – or at least not one you can find in your area – but there are many good pre-schools and you need to assess which would be best for your child and your circumstances.
You might also like...