I Moved from State School to Private School: Case Study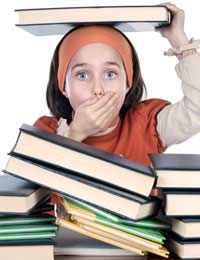 Catherine was 11 when her parents sent her to a private school. She had spent her primary school years at a local state school and was part of a small group of close friends. Her older sister was already a pupil at the new private school but Catherine had insisted she wanted to move to the local comprehensive with her friends.
"I didn't do over well at our village primary school," she says. "In fact when I moved up from infant to junior level I still couldn't read and my parents were really worried about that.
"At junior school I did learn to read quite quickly – my mum says I just wasn't really interested until then – but I wasn't a high achiever."
Realising Her Potential
She says her parents told her she was really bright and could do much better if she applied herself and they felt she would do much better in a school with smaller classes.
"I was scared to move to a new school by myself and to leave all my friends behind. Everyone else I knew was moving up to the local comprehensive school together and they talked about it all the time."
Catherine's parents arranged for her to go to her new school for two activity days in her final weeks at primary school but when it was time to start at the new school she still didn't want to go.
Miserable
"I was really unhappy at first. In fact, I threatened to run away from home and I remember thinking I was going to be miserable for the rest of my life!" she said.
"I made life really difficult for my parents and there was a huge battle every morning to get me into the car for school."
"I'm a very shy person. I don't make new friends very easily and at that age I had little self confidence and I was convinced that I'd be left out."
She says she made life so difficult for her family that after two months they gave her the chance to move to the comprehensive school where her friends were.
"Although I still made a fuss every day about going, I had actually started to enjoy the new school and had made some friends," she says. "My parents couldn't believe it. They finally gave in and said I could leave – and I told them I thought I should stick it out a bit longer!
New Friends
"It was hard at first because most students in my year had moved up from junior school together and cliques had already been formed but by the end of the first term, I had made some new friends and felt like I was fitting in.
"Fortunately I wasn't the only 'outsider'. There were three or four of us and we just sort of got together."
Catherine is now really pleased that her parents sent her to the school. It was a small school with around 350 pupils and she thinks she probably got more individual support than she might have done in a much bigger school.
"I was able to take classes that I couldn't have done at the comprehensive – such as Classical Studies and Latin," she said.
"I was particularly excited about being able to take Latin as a choice for my GCSEs. Languages are a passion of mine and I had already been learning French and German."
Extra Activities
She also enjoyed the extra activities available at lunchtime and after school such as netball, art club, tennis, karate, speech and drama lessons, choir and individual music lessons. She says she's fairly sure she wouldn't have achieved her exam results - 10 GCSEs at A-C grade if she had gone to the comprehensive.
"There was real pressure from the teachers to try harder and we had a lot of homework," she says. "I found that I was capable of doing well when I set my mind to it and by the time I left, I had actually developed a love of studying. My parents still can't really believe it!
"If I hadn't gone there, I'm not sure I would have stayed for Sixth form and then moved onto university. My parents say my confidence really improved after a couple of years and I think they are probably right.
"At university I had to give presentations to large groups of students, go for work experience at a museum and even gave guided tours to potential students and it wasn't a problem for me."
Catherine later graduated with a high 2:1 degree in ancient history and archaeology from Newcastle University – and she is now studying for an MSc in Architectural Conservation.
You might also like...