Under 5s with Special Education Needs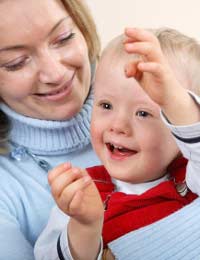 If your child is pre-school age and has special education needs, or you suspect that may, then help and support is at hand. Here's an insight into what help is available at pre-school for under 5s with special education needs.
Special education or educational needs, which is often abbreviated to SEN, is a term used to refer to children who have learning difficulties or disabilities that makes learning and education harder for them than their peers. For example, they may need extra help with reading, learning to write, understanding instructions or information, expressing themselves, making friends, behaving in a pre-school setting and being organised.
How Special Needs Are Met in Pre-Schools
If you're concerned that your child may have special education needs, then either speak to your doctor or health visitor, or if your child is at pre-school or nursery already, speak to their teacher, the Special Education Needs Co-ordinator or head of the pre-school. When you're expressing your concerns, it's useful to ask if they think your child is able to work in the same way, or at the same level, as the other children in their pre-school class and if they think there could be a problem.
Sometimes it's possible that your concerns may just be that – concerns – and that your child is doing well at pre-school. But on other occasions the pre-school teachers, doctor or health visitor may suspect there could be a problem too. If it's agreed that your child needs extra help for special education needs, then further action will be taken.
If your pre-school aged child is found to have special education needs, then various forms of help are available. It's normal now for children to stay within mainstream pre-school settings, but receive extra help whilst there.
It may be that the pre-school want to take what's known as Early Years Action. This could involve your child being taught slightly differently, to meet their needs, or they may receive extra help at pre-school, such as through having an adult there to assist them. Their progress and aims may be recorded in what's referred to as an Individual Education Plan.
It may be that the Early Years Action is just what they need and things work out well. But if it's still felt that they need extra help, then Early Years Action Plus may kick into action. This is where additional help is offered and may involve your child being assessed by external specialists. For example, if they've having problems with speech, then a speech therapist may be involved.
Depending on the outcome of Early Years Action Plus, a Special Educational Needs (SEN) statutory assessment will be carried out. This is done by experts and will help ascertain exactly which areas your child needs help with. Your child should then subsequently be issued with an SEN statement. This sets out their individual needs and the help they require. It's reviewed and updated on an annual basis, to ensure the best level of help is always given.
The main thing to remember is that, should your child need it, plenty of help is available at pre-school age. It's recognised that all areas of development are vitally important to children, so the earlier difficulties can be detected, the sooner they can be helped.
You might also like...