Preparing Your Young Child for the Discipline of School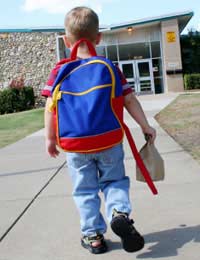 Starting school is a huge milestone in the life of a young child. It can be exciting and fun or it can be a trauma for both parent and child.
The very best way you can prepare your child for the new experience is by ensuring that they are ready for the discipline of a school day and have the necessary social skills.
Research has shown that children who don't attend nursery or regular playgroups before school find it much more difficult to adapt to the routine of school.
Major Change
After all, starting school is a huge change to your child's life. One day their whole world revolves around home and familiar faces and then suddenly they find themselves in an alien world.
Children who have attended playgroup or a pre-school nursery are in a much better position to cope because they are already used to the structure of a nursery and having to share with playmates.
Even children from a home where parents find it almost impossible to say "no" should have become accustomed to following instructions at pre-school and they have already had to contend with not getting their own way in a room full of children.
Of course, some parents want to keep their child at home with them until they reach school age because they don't want to miss their early years and they worry that no-one knows their child like they do.
Lay Good Foundations
This may be true but at some point (unless you opt for home schooling) your child needs to learn to interact with other children and adults. By sending them to nursery or playgroup, you will be helping to lay a good foundation for starting school.
You can also help them be prepared for the discipline of school by making sure they don't always get their own way at home.
Although primary schools tend to be much more understanding than they were even 20 years ago, there have to be rules and a certain amount of discipline for the school to run smoothly and safely.
When the bell rings, children need to know this means that playtime is over and it's time to go inside. If all the reception class children ignored the bell and refused to go back into class, it would be very disruptive to lessons!
Get Used to Rules
So prepare your child by setting some rules that have to be followed. For example you could set an alarm clock to go off at bedtime and make it clear that when it goes off, it's time to stop playing.
Give your child some practice in following simple instructions such as getting out cutlery and placing it on the table ready for a meal. Ask your child to bring out their own coat and hat when it's time to go outside instead of you fetching it for them.
Teach them to tidy up their toys when playtime is over and practice taking turns with a simple board or ball game.
Make sure you teach them that it's not okay to snatch or to use any kind of violent behaviour when things aren't going their way.
After all, a four-year-old who punches, kicks or throws himself on the ground screaming when another child takes his pencil or breaks up his jigsaw is not an ideal pupil.
Playmates
Sadly, lots of parents believe their child is impeccably behaved and "a good sharer" but often that's because they are used to playing mainly with an adult.
Grown-ups are polite. They ask for things and give praise for good behaviour but young playmates can be a totally different matter!
So if your child doesn't go to nursery or playgroup, you should make sure that they get plenty of opportunity to interact with children of their own age before they start school.
Take them to the library, the park or a soft play area where they will be playing alongside others or invite local children to play sessions at your home.
Children will be more prepared for school if they know what to expect so make sure your child attends any visits arranged for new starters. Talk about school with your child and try to give them some idea of a typical school day.
For example, explain that they'll line up in the yard, then hang up their coat and go to their classroom. Talk about some of the day-to-day activities, being sure to mention those you know they enjoy.
Above all, try to make school sound like fun. When your pre-school child misbehaves don't scare him or her by threatening "You won't get away with this at school" or "School will soon get your bad behaviour sorted!"
You might also like...
I fail my grade12 in 2011,i was in private school at Nelspruit i want to repeat my matric but the one was paying for me fees is no longer working.now i am confused i have no idea what i can do please any help me.my numbrer:0731589546
andile
- 8-Jan-13 @ 4:56 AM