Financing a Private School Education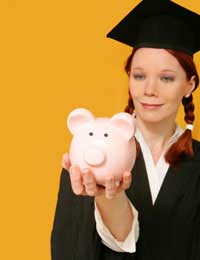 In an ideal world, all parents considering a private education for their child would have the funds to easily finance their school fees.But for many families, funding a private education involves making sacrifices so you need to be happy about this before you sign your child up for a private education.
School fees vary enormously but they average between £6,000-£10,000 per year for day school and up to £50,000 for boarding school. You might think that at £10,000 per year funding your child's education won't be a problem.
But you need to take into account that most schools expect the year's fees paid in two instalments – often before the end of the autumn term and just when you are gearing up to pay for Christmas!
Start Early!
Some parents start saving for private school before their children are even born – and that's obviously a good idea but the majority of parents don't think about school fees until their child is at least two-years-old. If you have sufficient funds, the best idea is to find out about school fees schemes where you can pay a block amount before their first year at school. This reduces the amount you need to find in future school years and often you will get a reduction in fees for paying a lump sum at the outset.
Equity Funding
Another popular option is an equity drawdown scheme. Usually secured on your home in the same way as a mortgage, this can allow you to borrow a preset amount and then draw from it as needed. For example, you could borrow £30,000 against the value of your house and then draw £6,000 per year for the next five years to pay the school bills when they arrive.
The loan can be taken over 10 or 15 years and eases the burden by allowing the cost of secondary education to be paid over a longer term.
If you are considering this option, it's important to remember that you will still be paying back the loan long after your child has left secondary school. They may then want to go onto university and the two lots of expense taken together could be a real strain on your finances.
On the plus side, if you pay a year's school fees in one lump sum you will usually be entitled to a small discount but against this you must set the interest on the loan taken out.
Remortgaging
If you have a lot of equity in your property, another option is simply to remortgage your home. Depending on the value of your property, you could borrow all of the money needed for fees or borrow half of the amount needed and top that up from your earnings each year.
Parents who need to borrow money for school fees – or who plan to pay the fees from future income – should ensure that they have life insurance and some type of health plan which will cover the payments if one parent dies or is unable to work.
It can cause real strain on a family if parents realise partway through their child's school years that they simply can't afford to pay the fees any longer. It's a good idea to work out a detailed budget forecast and this should always include a margin of error of at least 25%. That way, if other costs rise more than expected, you won't find yourself struggling.
Other Costs
You should bear in mind that most schools do not refund fees for absence unless it is a prolonged absence. This means that working parents might have to pay for home care for a child who is ill while still paying the school fees.
Make sure you take into account any additional costs which you'll have to meet. These include bus fares if you don't take the child to school yourself. Many schools have their own buses and costs can be quite high if only a few children live on your route.
You will often be expected to buy more books and equipment than parents who have children in the state sector and after-school clubs can be expensive. Educational trips and overseas school trips will also add to your annual costs. If grandparents are funding a child's education, you should make sure that provision has been made in case anything happens to prevent this in future.
If possible, have the money put into a trust fund of some type at the beginning of your child's education. Alternatively, tactfully try to establish that school fees have been provided for in your relative's will.
You might also like...
My child who is 8yrs of age, was a gifted child he knew his alphabet at 1 yrs old he picked up sign language at the age of 2 yrs used to hear songs and remember it all at the age of 3yrs, knew his numbers to 100 2x 5x 10x's table, shapes, colours and read before he went to pre school. He was progressing until his best friend started to envy him and started to manipulate his school work by telling him God said you shouldn't do your homework come last in events can't be friends with others, as he used to know right from wrong believed in God, the other child used it too manipulate him. So after I had words with his parents and teachers we didn't get much help, so we put him in too private school it still has good morals, politeness, well mannered and innocence, which is what attracted me to private school, he loves it too, so why am I finding it hard to get him to be that child who loved learning, he's forgotten his sounds so his spellings are not good his reading is fantastic, his general knowledge is brilliant. But his maths and English are struggling his love for learning has disappeared tried everything but no luck.
Pamela
- 19-Apr-15 @ 2:25 PM