Is Your Child Ready for Pre-school?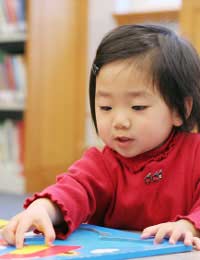 Although there's a set age at which children are regarded as being ready to go to pre-school, as children develop at different rates, not all children will be instantly ready at exactly the same time.
As parents, you'll know your child well and go and do your part in assessing whether or not they're yet ready to cope with the demands of pre-school. It's widely accepted that all children grow, learn and develop at different paces and speeds, so it's not surprising that not all children have the same skills at exactly the same time. This is why some children are ready for pre-school at an earlier stage than others.
Readiness for pre-school can be measured on several levels – emotional, physical and social. In order to cope well with being at pre-school, children need to have certain skills, be able to cope in certain situations, be able to communicate well with other people and get on well with other children in a social situation.
As a parent, you can ask yourself various questions to assess whether you think your child is up to the pre-school experience yet. In the first instance, it helps to think through the following questions and evaluate your child's readiness.
Is Your Child Toilet Trained?
It's a general requirement at most pre-schools that children have been successfully potty trained before they attend pre-school.
Does Your Child Play Contently On Their Own?
Although they'll be lots of opportunities to play with other children, there are also activities at pre-school geared up especially for children to play creatively on their own. If your child has difficulties in this area, especially if they're prone to disrupting others, then this could be a slight problem and may be something that you need to improve before your child is ready for pre-school attendance.
Does Your Child Interact Well With Others?
In order to get on well at pre-school, children do need to have good interaction and social skills, so they'll get on well with both the other children and the teachers or supervising staff. Although they will certainly have their social skills improved through their pre-school experience, it does help if they're happy to interact and socialise with other children from the start.
Is Your Child Independent?
Although still at a young age, your child does need to have a degree of independence. Most importantly, they need to be okay when left at pre-school on their own, as parents don't tend to stay for sessions. Of course you can't expect your child to be completely happy that you'll have to leave them there, but if they're not used to that at all, it can be a bit of a shock to the system.
Does Your Child React Well to Instructions?
A pre-school early learning environment has a semi-structured format, where children will be doing certain activities at set times during the morning or afternoon. As there won't be a choice of play or activity all day, children do need to respond and react well to instructions, so they can follow what the teacher wants them to do and conform to the rules. If you know this is a problem your child has, then you may need to work on this before they go to pre-school.
You might also like...