I Turned Down a Free Place at an Independent School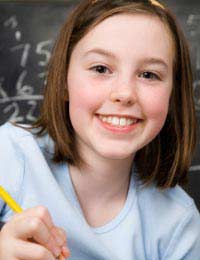 When Jo Cannon's daughter Ella was born ten years ago, Jo took eight months' maternity leave from her job in public relations, then put Ella into a private nursery near her office that accepted kids from age three months on up.
When Ella was almost three, Jo enrolled her in a small, independent fee-paying school near her home that had a large nursery that was divided up into two large groups, according to age.
"Ella loved the independent school, and I was thrilled about it as well," says Jo, now 47, who lives in London and now has two young sons as well. "The emphasis was not just on exam results and she had fantastic teachers, and quickly made a lot of friends.
"One thing we loved in particular was that because it was attached to the larger school, Ella got to participate in a lot of activities the older children did.
"From a very young age, Ella got to go on school trips to places like the London Aquarium and various art museums. She took part in the school play, and was allowed to join a summer camp.
"She was no longer treated like a baby, like she was at her other nursery, and she got to interact with a lot of children of different ages."
Moved to State School
When Ella was four, however, Jo decided to enrol her in the local primary, which was only a few minutes away from the independent school she had been attending.
"My other two were two and a half years old and two months old at the time, and I was starting to worry about future school fees," Jo says. "Plus, a lot of parents seemed to be taking their kids out of her independent school at age seven, moving them to schools that were seen as more academic.
"I really loved the little independent school, but I didn't want Ella to attend school in such a transient environment, with people moving away all the time. It wasn't good for her to make friends, just to see them leave within a year or even a few months."
Food for Thought
But when Jo told the headmaster she was taking Ella out, he was surprised. "We had become friends and Ella was doing well, and I told him the main reason we were leaving was because of fees, although that wasn't entirely true," she recalls.
"He called me up later that day and offered me a free place up through Year Six, not just for Ella but also for my eldest son Jonas, who had just started the nursery."
Jo and her partner Ben thought over the offer long and hard, but decided to turn the free places at the independent school down. "I thought that Ella would benefit from larger class sizes, as she is very sociable and confident. And I wanted her to make friends who would stay with her throughout primary school," she says.
"The local school was much more diverse, with children coming from all over the world, which I thought was better for her as well – and much more interesting for me as a mum!
"Finally, Ben is very political, and he was adamant that our children attend a state school. Although he loved the nursery at the independent school, he really wanted our kids to have a state education. And the offer was only for two of our kids – and we have three!"
No Regrets
Ella is now ten, and has just finished Year Five at the local primary. Jonas is about to enter Year Four, and little Zach will be in Year One.
"All three of them absolutely love their school, and we now have no regrets whatsoever that they didn't get a private education," says Jo.
"We live in a well-off area and they now have friends who lives in mansions and friends who live in Council flats, coming from all different types of backgrounds. I didn't want them wondering why they were the only ones without a swimming pool at home, and now they don't.
"I still see the headmaster of the independent school from time to time, and occasionally my partner and I meet up with him and his wife for a drink. I think they still cannot understand why we turned them down, but I know we made the right decision."
You might also like...