Why I Sent Just One of My Children to Private School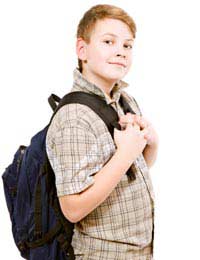 Sharon Martin always knew her children were bright. But she had no idea how academic her third son George was until he started secondary school.
"All my sons – and I have six – went to our local state primary school, and George was no exception," says Sharon, 37, a part-time accountant from London.
"George, who's now 15, seemed like all the others – he did well and didn't seem to have any major problems, and was on the Gifted and Talented list in science and maths. Then he turned 13."
George, the middle son, left primary school with three 5s in is KS2 SATs – but so did her two eldest. He was a happy, well-adjusted boy who enjoyed his schoolwork – and enjoyed working hard. But when he started his second year of secondary school, he stopped learning.
"It soon became clear that he wasn't getting what he needed from state education," says Sharon. "Because he was clever and he was head of all of his classes, moving schools just seemed to make sense. He simply was not being catered for at his state secondary."
Science and Maths
When George initially started secondary school his teachers immediately noticed his talents, especially in science and maths, and put him in a special class with three other ultra-bright boys. George was happy in his small group, and felt he was stretching his mind to the limit with all the extra attention he was receiving.
But the following year he and his parents were told he would have to go back to the old class - with 30 students of varying abilities - due to budget cuts. George was devastated
"He just started getting bored," Sharon says. "A lot of the time he'd come home and research the topic on his own, just to learn more. He was forever asking questions neither my husband Clem or I could answer and we were all getting frustrated."
Partial Scholarship
Money was tight, but Sharon was lucky enough to find a private school that recognised George's potential, and which gave him a 40 per cent scholarship.
George enrolled there when he was 13, at the beginning of Year 9, and has never looked back.
"He much prefers the new school, in particular because he likes the small classes and all the special attention," says Sharon. "He would never go back to a larger class now. He never has more than seven other pupils studying with him, and he is happy with what he's learning.
"I'm sure he'll go to a good university, and I'm happy that he's not just wasting his time in school, but really learning."
No Sibling Rivalry
Are Sharon's other sons jealous? Not a bit, says Sharon.
"My eldest son Clark is as bright as George, but he doesn't have the same enthusiasm for learning things. He took a lot of advanced classes and also took his GCSE's a year early at his state school, but they don't do that anymore so it was never an option for George," she says.
"Clark was also adamant that he stay in his state school and didn't want to go anywhere else, unlike George, so he never resented him at all."
Sharon was, however, a bit worried about her second son Paul. "I thought that he would use my sending George to private school against me. But so far, he hasn't," she laughs.
"And my youngest two school-age kids are still in primary school and don't appear to be as academic, so it's not an issue with them – at least not yet!"
Sharon is now on maternity leave with her sixth, who is just a few weeks old. "Money is tighter than ever now that I'm on leave and have another mouth to feed, but paying for George's school is a priority," she says. "It's definitely been worth it."
You might also like...