Why State School is Right for My Daughter: Case Study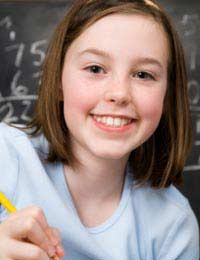 When Ruth Reizin had her daughter Rachel, she knew that eventually she would need to pay for childcare. Ruth, now 47, was working as a university lecturer, and planned to resume work after taking time off for maternity leave.
Rachel eventually ended up attending a private nursery school that was part of a larger school that went up to Year Six. The school was in their local area of north London, and Ruth was happy with the choice.
"Although Rachel enjoyed her time there, we never intended for her to continue," says Ruth, who is married to Paul, a novelist. "It was just a stop-gap for her until she could go to the local primary."
Rachel, now eight, still attends the local state school, and Ruth says she has never been happier, with the quality of teaching as well as the overall learning environment.
"It has provided a very good education for our daughter, who will be entering Year Four this year," she says.
"I could probaby have afforded to send her to private school but I chose a state school. We are fortunate in that the state school we live close to is a very good one, with an excellent governing body. In fact, I am now a governor!
"Socially, it is a lot more mixed than the private school she attended, and it gives her a much more realistic view of the world. There is a lot more ethnic diversity and religious diversity, which is a reflection of the world we live in.
"She gets to realise that everybody is not exactly like her. And I think growing up in the big city, that is an important lesson."
Emphasis on Exams
Although Ruth admits that she was "slightly tempted" to have Rachel stay at the private nursery, she is now a lot happier at the local primary school than she was at the private school.
"Everything is better about the state school. At the particular school she was at there was a big emphasis on passing exams, even at nursery level.
"And socially, for her, the smaller classes were not good. She likes the larger classes at the state school more. There was a very small group of girls in each class, and if you get in an argument with one of them, there is nowhere else to go, really. It can be very intense, I think.
"In her year group at the primary school where she goes, she has 60 children to play with, more or less. At the private school they did not seem to mix them up so much between classes, and they were much smaller."
From State School to Oxford
Ruth herself went to a state school until she was 16, then went on to public school to do her A-levels. From there, she went on to study Classics at Oxford University.
"In my experience, it's completely untrue that only children from public schools go on to Oxbridge," she says. "I went to Oxford, and I have friends who stayed at my state school and they got into Oxbridge from there.
"And there was something I read recently that said that state school students do better at university than private school students, because they are much more motivated and used to working by themselves."
In fact, Ruth says her only worry about taking Rachel out of a private nursery is that she thought she might be bored at a state school. Luckily, her fears were not borne out.
"She moved from a very academically pushy nursery school to reception at a state primary school, but we never got the impression that she was held back, or bored, or not being stretched.
"That was my worry about taking her out of the private school, that she might get bored, but that has never happened. She is very happy where she is, and I think we made the right decision."
You might also like...