I Took My Kids Out of a State School: Case Study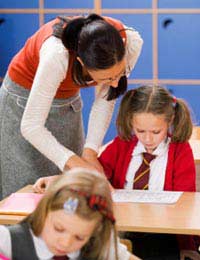 Stay-at-home mum Alison Turned lived in London for more than a decade, until her eldest son had just turned seven. Then she began to worry about secondary school.
"My husband Stan and I began thinking about moving out because we wanted to have a better choice of secondary school for our kids, who were seven, six, four and three," says Alison, now 38.
"The state secondary schools in our area of London were appalling, and we didn't want to eventually send our kids there. Also, we knew that if we sold up and moved outside London, we'd release some much-needed equity in our house."
Money Left Over
Alison and Stan were happy with the state primary school their children attended in London, so initially they looked at state schools in Buckinghamshire, where they knew they could buy a large house and still have money left over from the sale of their London property.
So they chose an area of the county they liked, and started looking. But unfortunately, their search led nowhere.
"There were fantastic state primary schools in the areas we liked, but I could not get my children into any of them because I have four of them, and there just weren't places," says Alison.
"I could only get them into very small village schools where there were less than 50 children in the whole school.
"Those schools only went up to Year Two, and after that they would be bussed to a bigger junior school in a different town, that would be my only option. I didn't want to do it, so I started looking at private schools."
What Alison saw, she liked – especially compared to the state school her children were still attending in London.
"I saw quite a vast difference in the facilities compared to their state school. The private school offered a much broader curriculum, and I felt because we were in a fortunate position to be able to pay for it until they were 11, that I wanted to give them that opportunity," she says.
"Initially I felt very torn because I had wanted to put them in a state school, but I could not get them into any of the good ones, and I was not willing to put them in a bad one."
Couldn't Be Happier
Alison's children have now been at a new private school for almost a year, and she says they couldn't be happier.
"What is better about the school they are in now, as opposed to their old state school, is that the classes are smaller and the facilities are much better. They have more sports equipment and sports facilities, and they are able to run days out and school trips much more slickly.
"Because we are paying for it, they get goodie bags when they go on trips, and those trips are much more special, I think.
"It does not feel like crowd control in the classroom, there is much more teaching done. They also expect the children to be much more independent, which was a shock to my older kids.
"Once you hit Year Three they expect much more independence, which my kids were not used to. Their hands were held much more at the state school, but at their new school the site is much more spread out.
"They are expected to get their own PE kit and to get to different classes on their own, which is quite a change. They also have specialist teachers for a lot more subjects, which means they constantly have to go to different classrooms.
"It has been quite a sharp learning curve for them, but I think the quality of the teaching is about the same as it was at their state school."
Alison plans to have all her children take – and pass – the eleven-plus when they are older. "We had to release equity by selling our London home to move and pay for their school now, and we cannot afford to send them to private school when they reach secondary age, so the eleven-plus is our plan.
"They are so happy at their school now, that I don't regret for a minute pulling them out of their state school, even though I have to pay their fees. Let's just hope that our long-term plan for their education all works out!"
You might also like...