My Child Didn't Get a Bursary to Private School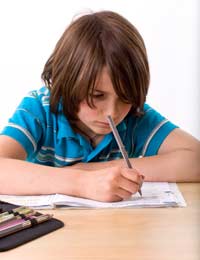 When Janet Black was looking for independent schools for her son James, her first port of call was to find out which ones within a reasonable distance of her north London home were offering 100 per cent means-tested bursaries.
Janet, who didn't want to give her real name, chose three schools online, then visited them when James was still in Year Five. "When I visited those schools I could see that the facilities, the grounds and the opportunities were great," she says.
"So we then started having James tutored for about eight or nine months before he had to take the entrance exams. He's very good at maths – the second best in his year at primary school - but he doesn't really enjoy English.
"We didn't go down the tutor route paying £500 a month or making him revise throughout the summer holidays or anything like that. We paid only £100 a month and it was difficult for us, but it would have been worth it if he had got a bursary!"
Admissions Processes
Janet, 43, is a stay-at-home mum, while her husband works part-time for an airline in passenger relations. They live in two-bedroomed council flat with James and their two daughters, who are aged 7 and 13.
As Janet liked each one of the three schools, she looked at their websites to verify the admissions processes. "Each admissions process was slightly different, but all of the forms just asked me to tick a box saying I was applying for a bursary. It all seemed fairly simple," she recalls.
"One school told me not to bother filling in the form because someone one from a charity linked to the school would do a home visit and go through the form with us.
"Another school sent me a form to fill in that was quite brief and didn't ask for a lot of information. Then they contacted me asking for a bit more back-up evidence, such a as copies of working tax credit and proof of income."
Academic Screening Test
The third school, however, was a bit different from the others. "Everyone who applied for a bursary there had to do a preliminary academic screening test before taking the main entrance exam, about 200 – 250 boys in all," says Janet.
"When we got there the hall was full. They gave us cake, muffins, coffee and juice, then took the boys off in groups of eight or 10. They were all taken to a computer room and had a timed set of tests that lasted about 40 minutes in total.
"James sat the test on Monday and got the results by Friday. But because we did not get past the screening we did not do the main entrance exam.
"However, I had to pay £70 for the pleasure of that screening test, which was not refunded. That meant the school made more than £14,000 in total off the bursary boys, even though the test was computerised, which means they didn't have to pay people to mark it.
"I had to pay to apply to another school as well, but after James was offered a place without a bursary there, they returned my cheque. They said that due to your financial circumstances we don't feel you should have to pay that money, so they gave it back."
Group Interview
Failing the screening test meant James had just two more schools in the running. He took the entrance exams for both – and was invited to two interviews.
"The first school only had 10 bursaries for 50 applicants who had passed the entrance exam, as it's very competitive," says Janet.
"Sadly, he didn't get a place. I suspect he wasn't extroverted enough during the interview, which was a group interview. It was the same for the other school; he was offered a place but no bursary.
"Two years ago my eldest daughter also got into two independent schools, and she was third on the waiting list for a full bursary but did not get in.
"My daughter had been disappointed, but luckily James just didn't seem to mind at all. He said to me he sort of expected that. He's happy to be going to the state school because all of his mates are going there."
"Classist System"
What does Janet think? "It's a classist system, and it was very greedy of that school to take all that money from bursary candidates for that screening test.
"But I have nothing but good things to say about the other two schools and the processes we went through applying. They were both very respectful and thoughtful, and the man who did the bursary home visit was very nice.
"At one point he looked around our tiny flat and asked if we had any lodgers. Then he realised how impossible this would be and said, 'Um, perhaps under your table?'"
You might also like...