Familiarise Yourself With School and Staff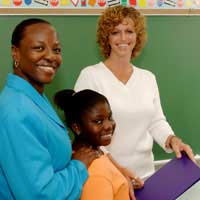 It is very important when sending your child to a particular school, that you have a good understanding of its practices and methods along the way.
The Academic Element
Understanding how the school is run and how the staff conduct themselves, in accordance with the children who are taught there, is crucial to understanding for yourself if, indeed, it is the right school for your child to receive either nursery, primary or secondary education.
It may sound the most basic of notions, and one that we all think we have taken into account, but it is worth remembering - with state school places at a premium and the school admissions system operating at full pace - that most basic of ideas: are the staff going to be able to educate and motivate my child?
With respect, there is nothing wrong with the idea of a school being high up in the league tables or being able to produce high scoring pupils at exam time, but it is necessary to consider what else goes in within the schooling arena. After all, your child will spend a considerable amount of their formative years within a school environment, so it is only natural that you want them to be happy and confident in their surroundings.
Again, this might all sound a little too obvious, but it has to be said that choosing a school is not just about the bricks and mortar aspect of the process, nor whether the school has facilities far outreaching those of a nearby school or another school on your list of choices.
The Human Element
The human element is important too, so when visiting a school it is worth making notes, not just of how the school is equipped, and how it presents the curriculum to the pupils, but also how the staff - both teaching and administrative - conduct themselves with the children.
Most head teachers will allow you to visit the school during term time, and this is the best time to see for yourself how the teachers interact with attending children. Ask if you are permitted to view a teacher at work with a class and listen and make notes as to how the children respond to the teacher and vice versa. This is a good benchmark for the teaching process.
Also, if you can, look at the canteen during a lunch break and observe how staff responsible for the catering respond to the children and again, make notes of how the children react. As always, this may sound overly simple but it is crucial to your child having a happy and fulfilling time at your chosen school.
Parents and teachers associations are also a hive of useful information if you can sit in on some of their meetings. If the school has a website it is worth checking this as there are usually testimonials from other parents on there.
Making The Most Of Your Visit
Don't be afraid to ask to make more than one visit to the school to satisfy any curiosities you might have. After all it is your child and you have the right to ensure all is well before submitting your admissions request.
Open days are again useful and will give you an overview of what to expect, but seeing the teachers in a proper working environment will give you the best idea as to how the school operates, and how the children are motivated.
As we have already said, the bricks and mortar element of the school is important, but it is no substitute for your child feeling at home with their classmates and also their teachers.
Without this, even the most well equipped school can be nothing more than a chore for your child, and they will not apply themselves as fully as they would if all around them were encouraging
You might also like...